Join us for South First Fridays ArtWalk SJ on April 7th from 5–9 pm in SoFA District & beyond! Come be a part of our unique community as we celebrate the artistic expression of our community and immerse yourself in the vibrant atmosphere of San Jose's arts & culture scene.
The South FIRST FRIDAYS ArtWalk is a self-guided, nighttime tour through galleries, museums, and independent creative businesses from 5–9 pm.
All ArtWalk venues are free admission and family-friendly.
---
SoFA District
ANNO DOMINI // the second coming of Art & Design – 366 S. First St. map
galleryONE:
"MASCOT" Navin Norling (GA) solo exhibition"

I create work that is made from remnants of lives once lived and the people who have gone me."
In his ongoing practice, Navin June Norling (b. 1970) examines classic Americana imagery and assembles miscellanea out of popular culture signifiers, sayings, folklore, and materialism.
During his upbringing, Norling would spend summers on his grandfather's farm in California's Central Valley, where all resources were reused without any waste. The impact of that rural setting led him to embrace salvaged components and eventually integrate assemblage and bricolage techniques into his formal training as a painter. But apart from those summers, Norling grew up in suburban California and spent his youth in wild exploration across the Bay Area; part of a generation committed to establishing a personal aesthetic framework, whether in the use of graffiti monikers or wheat paste messaging. He has been vicariously loyal to that urban grit and has maintained a street palette in his work.
The use of found objects and urban detritus plays a large part in his continued investigation of a dynamic American cultural landscape and its sociopolitical nuances. Cast-off wood frequently makes an appearance in the artist's work, like the window panes in Good to the Last Drop (2005) presented at Sculpture Center in New York and in Black Cats (2003), held in the contemporary art collection of the Brooklyn Museum.
In 1995, he received a BFA in illustration from the California College of the Arts. It was here that he first encountered Raymond Saunders, who studied the collage process further reaffirmed his commitment to the found object. He later moved to New York in the early 1990s and received an MFA in fine arts from Hunter College in 2002. This shifting inhabitance across rural, suburban, and urban landscapes continues to shape his long-running survey of the country. More than that, the changes in scenery helped him develop a cheeky lexicon in addressing national issues of power, class, geography, capitalism, and inequality – a sense of humor accessible to varying demographic groups, each with their unique set of sensibilities.
His body of work encompasses paintings, sculptural objects, and installations. melanges of cacophonous iconographies developed from urban graffiti and pop imagery. In his recent work and as an extension of his exploration of bricolage, the artist has been employing a stacking technique to unite disparate, totemic fragments – modular and self-contained – that, when put together, plot out an ambitious, cohesive genealogy of collective Americana chronicles.
Norling lives and works in Atlanta, GA. He is currently a professor of foundation studies at the Savannah College of Art and Design.
MASCOT is Norling's second solo exhibit at Anno Domini.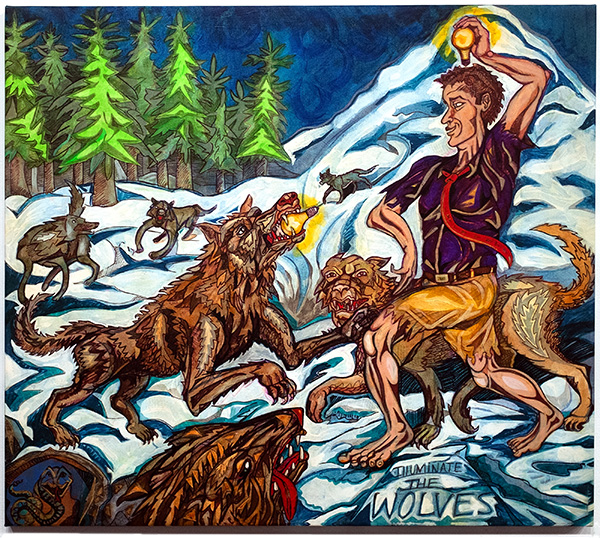 galleryTWO:
"Illuminate the Wolves" Zack Luchetti (1973–2021) tribute exhibition
Zack Luchetti was a master of wordplay and irony, his philosophical musings lent delight and play to works that ranged from comics to portraits, commercial art to folkloric dreamscapes, musings on nature, journeys with his best amigos, to mythological references and always, to his Christian faith. This show came to life because of his sad and unexpected death to cancer, leaving a legacy of thought and image as vivid as his presence.
Zack grew up in Oakland, CA, one of three brothers. As oldest and soon to become the tallest (6'4") he assumed creative leadership of the trio, as well as of the neighborhood gang of friends. Everything flowed from his imagination—early stories (he wrote his first book at age 9) films, plays. A voracious reader, he absorbed folklore and myth, tracking Bigfoot and the Yeti through references and his own drawings. A dreamer, he and his classmates threw message bottles into the California current to see how far they would go. Most were swept ashore within weeks, but two years later, Zack's ended up in the Canary Islands. His teacher's comment: "If anyone's bottle could cross two oceans, it would be Zack's."
Always sketching, he began painting at home on the back of his bedroom door. Then scenes on the walls, Finally, a 10ft. by 20-ft. mural of a huge, hairy mammoth on the dining room wall, which still remains, the first of many murals he would create. He had early exposure to art – his father painted, his mother wrote books, photographed and painted, and his grandmother was a painter. Once a year they created "The Art House" out of the family home, where 15 or so artists would show their work, with food and live music.
Travel drew him to Alaska, Peru, Nepal, Mexico, Vietnam, Ireland and Greece. He sketched constantly, preferring life drawing to using photographs. In every country, he could be found surrounded by locals—often children—watching him at work.
His brother remembers him walking 20-ft ahead of the meter maid on College Avenue with a roll of dimes, putting money in the meters about to be ticketed. Zack had a kind, loving heart. He wrote about his quest for a "clean, sane heart."
His influences were many. He credits Barron Storey of San Jose State with showing him image making, and introducing him to the work of Max Ernst, by which he learned how figures could interconnect. He studied with Glenn Hirsch and Leroy Parker, and more. He developed his drawing skills, learned to collage different xerox drawings into compositions, studied computer programs, painted murals, but always returned to life drawing. As a teacher, he took one position teaching ceramics, which he had only a few weeks to learn. He always accepted a challenge, including the martial arts studies of Tai Chi, Xing Y, Shaolin Kung Fu and Chi Gong. He often created with his brother JJ, with his friends Sonny and Django, and with brother Micah.
His art muses included Frank Fazzetta, Moebus, Dore, Posada, Escher, the Brothers Hilldebrand, Frank Miller, Hap Kliban, Archimboldo, Thiebaud, Caravaggio, Bernini, Leonardo, Fra Angelico, NC Wyeth, Pyle, Gaudi, Dali, Magritte, Winslow Homer, Hieronymous Bosh and R.C. Crumb. He also studied stoic philosophy, Epictetus and Marcus Aurelius. He read C.S. Lewis, Irish mythology, Meister Eckhart and William Blake. He read and studied Jung, charting dreams that he would turn into images. Always drawn to books, he began creating his own in the form of zines, called his "dreamic books." He published 20 of them, each featuring a segment of Zack's own adventures. He was the lead character, the "Young Hero" who followed an endless road that stretched across California, connecting to all the places of childhood and youthful memory.
"I am grateful to have grown up in a time where reading and art could come together with the stillness that allows imagination to develop."
Luchetti accomplished a diverse portfolio of drawings, paintings, commissioned murals and illustrations for print publications. His illustrations have been featured in the Seymour Pioneer Museum, published in Conquer Magazine, and on the back cover of Urban View magazine. His mural work was featured in prominent locations such as the SF Public Library main branch, Alameda Naval Air Museum, California State University and the Mercedes Edwards Theater.
His personal work has been exhibited in a variety of alternative spaces, galleries and museums including the SOMARTS Cultural Center, Southern Exposure Gallery, SF Museum of Modern Art, Museum of Children's Art Oakland, Fresno Museum of Art and in The White House, Washington D.C.
Luchetti received his BS in Graphic Arts and Illustration from San Jose State University in 1998 and later went on to earn his MA in Teaching Credential in Art from California State University, Hayward, CA.
---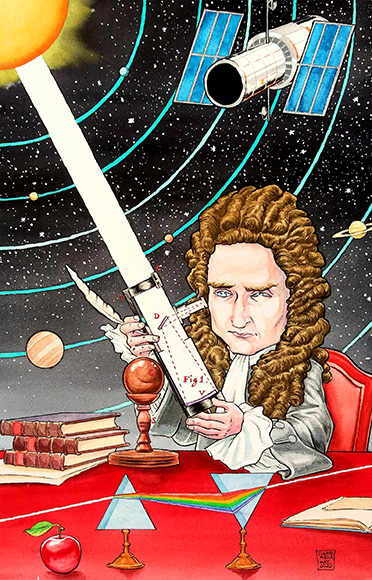 The Age of Enlightenment David V. Mejia solo exhibition
We owe much to the thinkers and innovators of the Enlightenment period. Explorers, inventors, mathematicians, scientists, politicians, philosophers, and writers changed people's lives, how they see the world, challenging the thousand-year-old Medieval authority. This was the dawn of our modern world. My art show explores some of the key figures like Isaac Newton, John Locke, Voltaire, and others who gave us concepts we take for granted today, such as gravity, representational government, and Liberty. I've pulled together my interest in Western history and philosophy, with a blend of art styles from early European paintings and political cartoons, modern comics, caricature art, and watercolors. This is my labor of love I've devoted the past year to. I hope you enjoy it and come away with a greater interest and fascination with our shared modern cultural beginnings.
About the Artist:
David Mejia is a San Jose artist who has done art shows and events throughout the Bay Area and Northern California. His style varies between realism, abstract, and cartoon. He works in mixed media, primarily watercolor with ink, pencil, and acrylic.
"I'm a firm believer in the use of art as a tool to bridge the gap between the subjective and the objective." ~David Mejia
---
MACLA Movimiento de Arte y Cultura Latino Americana – 510 S. First St. map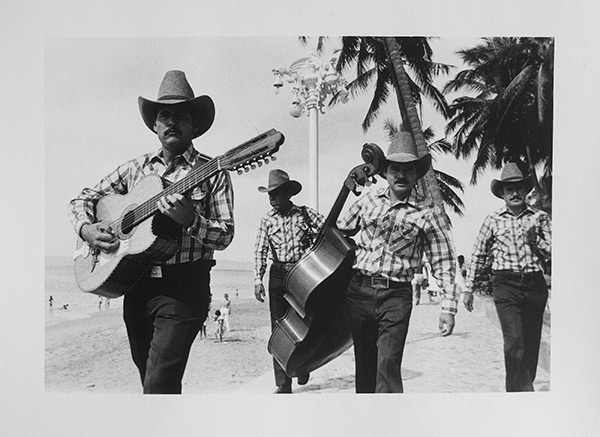 MACLA's 2023 Latinx Art Now Auction
View the very best in contemporary Latinx art from the Bay Area and beyond.
The 2023 Latinx Art Now exhibition closes with a live auction on May 20, 2023.
---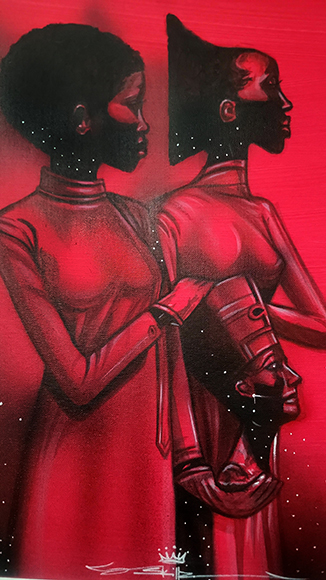 Hollywood by Fuquan Divine
My interpretation of actors and singers in private thought
---
Opera San José at California Theater – 345 S. First St. map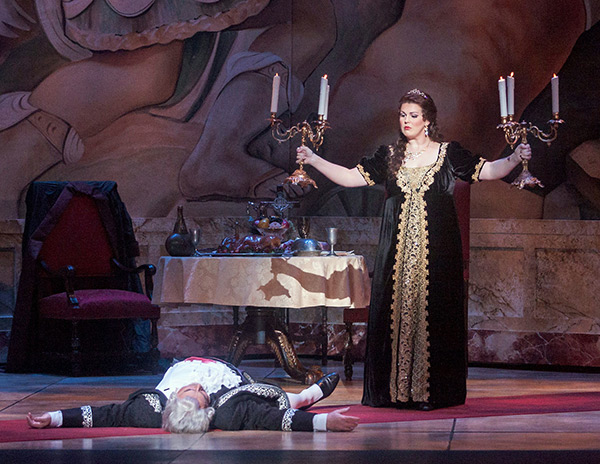 Join Opera San José as we celebrate the production of Puccini's Tosca. This quintessential opera is iconic, breathlessly paced, romantic, murderous, tragic.
We are opening the doors of the California Theatre for an evening filled with music, a sneak peek of the Tosca rehearsal, and other special activities! Featuring artists from the production and the lobby Wurlitzer organ- Jerry Nagano. Performances will occur at 5:45, 6:45, and 7:45 pm.
---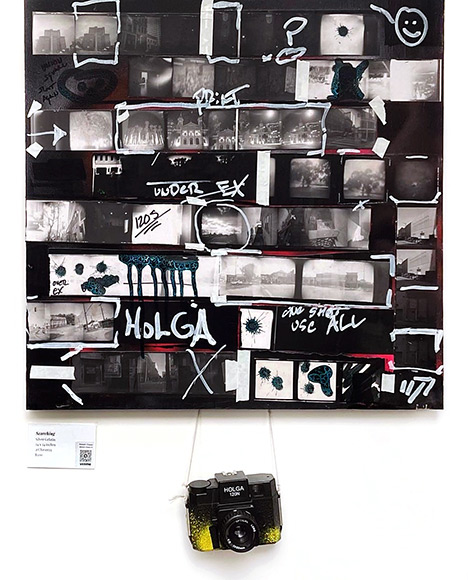 Stream of Consciousness Robert Delare Chavez III solo exhibition
Artist will be in attendance 5–9pm.
The creation of streams of ideas flowing in my brain when I focus on this work. I specifically chose to work using an inexpensive Holga camera on this project because of its versatility and the dream-like captures I can create with it. I use mixed media to intensify or emphasize my experimental exploration of this photographic project, hence a stream of ideas. Shadows, light, and structure continually clashing with life, color, and environment. My own chaos mixed with what is around me. Enjoy the experience.
About the Artist:
Chavez has been taking photographs all of his life, and recently earned his BA in fine art photography. He enjoys landscape photography, street art, and showing the beauty in the grittier side of life. He's been working on this project for many years, using a $35 Holga camera to show life from his perspective.
His work has been featured in many different venues around the Bay Area, including San Francisco, the East Bay, and San Jose. Most recently, his work has been shown at the Mexican Heritage Plaza Afterlife show and at the 1Culture Camera Shy exhibition. In May 2022 Chavez received the SJCC ASG President Award for photography.He is currently a teaching assistant under Terri Garland at San Jose City College.
---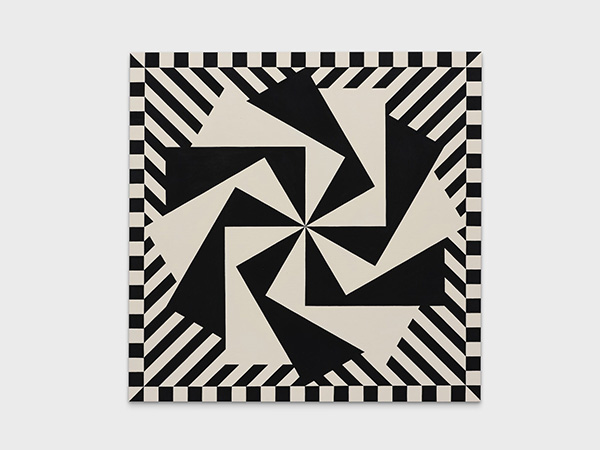 Altered Perception includes works from three local Bay Area artists: Sarah Hotchkiss, Lordy Rodriguez, and Susie Taylor.
Sarah Hotchkiss explores hard-elements abstraction elements in her artwork. All the while also exploring how abstraction is a powerful communicating language, whether at the level of early human visual development, like pictures for babies or the universal symbols that games like Parcheesi or puzzles provide.
Lordy Rodriguez's works explore the human urge to locate/define oneself by charting the environment in precise detail. Using the language of cartography, he makes drawings that go beyond map-making into abstracted, imaginary terrain.
Susie Taylor (b.1967) combines her background in Art, Design, and Craft to create abstract and dimensional textiles. She also collaborates with industry to produce modern, functional textiles that reflect the influence of the Bauhaus on her practice.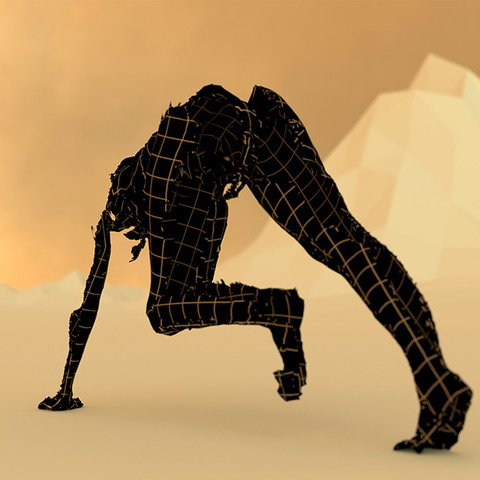 Rhonda Holberton: A Knotted World
We are on the brink of a technological and biological revolution that will change how we live, work, and relate to one another. In a Knotted World asks us to question the current state of technology that is blurring the lines between the physical, digital, and biological spheres. The work in the exhibition builds upon four series by Bay Area artist Rhonda Holberton that explores the militarization of land and the technology that both protects the soft animal of our body and extends violence outward to places we cannot see or imagine.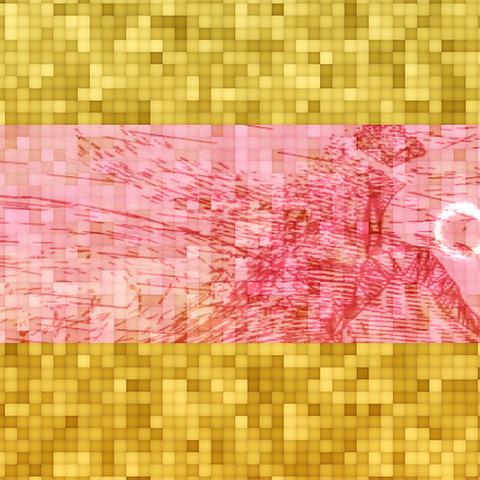 Rudy Lemcke: The Transit of Venus
Commissioned by the Institute for Contemporary Art San José, The Transit of Venus is an installation meant to feel as if the viewer is in a video game with no instructions or controller to navigate their path. It is a game where there is no winning or losing. Rather, the exhibition creates a space that allows the viewer to be on an unsettling threshold between worlds in anticipation of a resolution that never arrives.
The exhibition highlights a video projection based on the Transit of Venus, which happens when Venus passes in front of the bright face of the sun. These transits are among the rarest of observable astronomical events, repeating every 243 years. In the video projection, the yellow sun-like glowing frame is crossed by a red horizontal band of abstract digitally generated animations. A second video loops on a wall monitor that shows the artist walking a tightrope across the frame. Five grid-like paintings span three of the gallery's walls and are hung in a descending arc resembling the graphics from early 8-bit video games.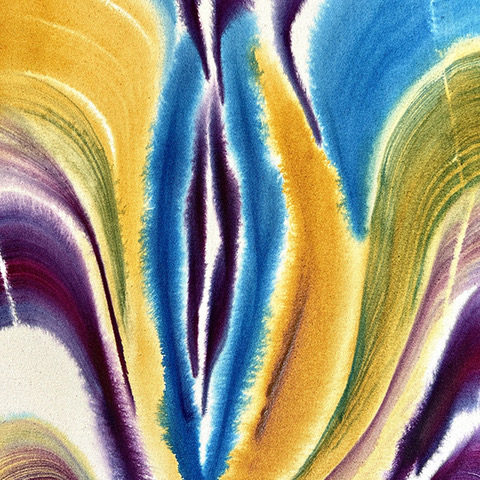 Sarah Blaustein: Present Tense
The ICA San José is thrilled to display a series of site-specific, bodily works by painter Sarah Blaustein. Installed in the front gallery, the work creates a full-sensory experience of being surrounded by her paintings. Present Tense, a series of sensuous, lush paintings, is made with permanent materials. The works evoke the feeling of giving life, creation, and the human condition. A viewer can get lost in the use of bold color, the seemingly wet, saturated surface and the push and pull of the picture plane. Using deeply saturated pigments and water, Blaustein paints the sensations she feels but can not see.
---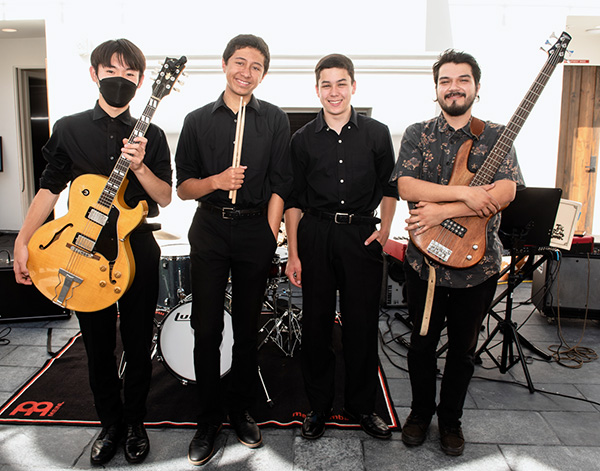 SJZ High School All Stars U19s
6:45pm– 7:25pm U19s will present a free performance in the SJZ Break Room.
The U19s is a student-led ensemble that features the rhythm section of our audition-based High School All Stars Honors Ensemble in a small group setting. This ensemble performs regularly throughout the season and for special engagements separate and apart from the main HSAS big band ensemble. The SJZ U19s present students with an opportunity to work in small groups, rehearse repertoire that is chosen by its members and get specialized instruction and coaching for performance within this format.
---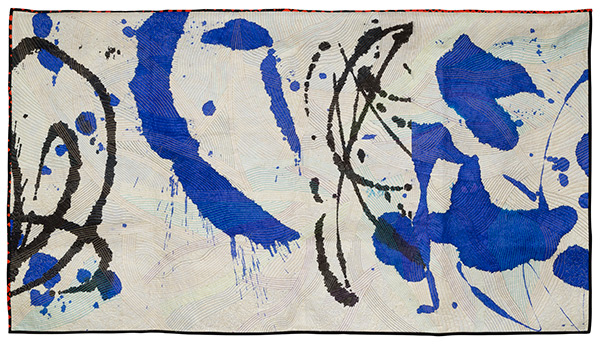 Get up close and personal with award-winning quilts designed and created by local, national, and internationally-recognized fiber artists.
Quilt National '21 is a juried biennial exhibition featuring the Best of Contemporary Quilts. Organized by The Dairy Barn Arts Center in Athens, Ohio, Quilt National showcases new works, all made within the previous two years from the show's opening, selected by the jury of Nancy Bavor, Brigette Kopp, and Karen Schulz. Quilt National offers the works of artists who take technology and techniques for fiber art above and beyond the ordinary.
---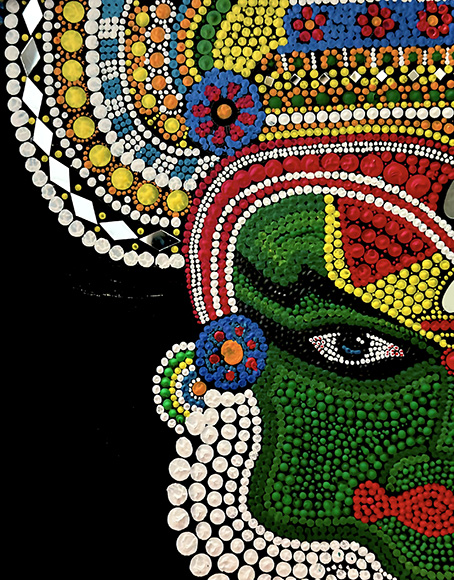 Divine Collections by Ritika Dua
Each painting in Divine Collection represents peace and love.
Hindu gods representing love, tradition and art at the same time. Everything in this collection has a mandala dot art element and the painting itself represents the religious or cultural reference from India.
About the Artist:
Obsessed with drawing since childhood , Ritika Dua was born in Punjab, India and came to San Jose with her family 6 years ago. Just like other immigrant families, Ritika's family came to the United States in search of a better future. Now she owns two restaurants in San Jose and thought First Fridays ArtWalk was the perfect way to showcase her recent obsession with drawing images of Hindu gods with dot art. This Divine collection represents traditional paintings but with dot mandala art. Every painting in this collection is made in a way to bring peace in your life.
---
Fountain Alley Area
1Culture – 136 E. Santa Clara St. map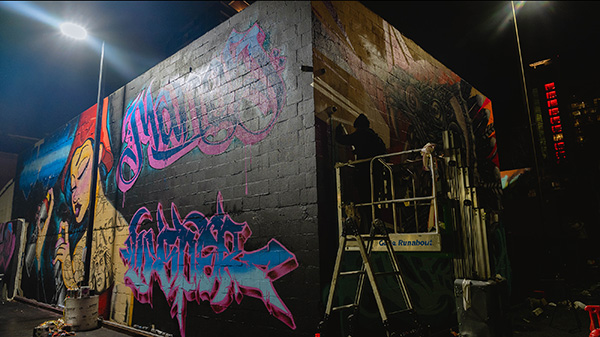 Graffiti & Mural Discourse
Graffiti & Mural Discourse will be hosted by Lou Jimenez, artist and urban art historian, and will take place in the parking lot behind the gallery, also known as 1Culture Alley.
April signifies a month of mural tours hosted by the College of Humanities and the Arts at San Jose State University. Lou Jimenez is the Lead Tour Guide and co-collaborating researcher for Public Art as Resistance project which adds to the Geography of the Arts/H&A in Action programming at SJSU by engaging community members in the history of resistance and public art in downtown San Jose. The tour focuses on highlighting twelve empowering unique works of public art and takes a singular approach by considering how San Jose's communities actively challenge narrow and exclusionary interpretations of local history through public art creation.
Through impermanent creations, such as graffiti murals, and more permanent large scale public sculptures, communities within San Jose have utilized public art as a space of resistance and agency, resisting both colonialist histories and recent narratives of urban demise through the beautification of urban space via art that showcases diversity in the city.
The wall activation that took place during the Bay Area Legends show left an everlasting imprint to those who appreciate graffiti subculture. For the first time in San Jose, graffiti writers had a say in the urban design aspect of the long sought after City Hall District. Similarly to the artwork in Public Art as Resistance tour, graffiti challenges narrow and exclusionary interpretations of public space. Graffiti's ephemeral and phenomenological approach questions what Jean Baudrillard calls, "The Combinatory", a Matrix of Signs, gaining victory over it because it exceeds semiocracy's own non-referentiality.
The Bay Area Legends Show created a ripple effect, initiating a wave of LORD crew tribute murals in Seattle and Texas. Cities like Portland paid homage to their legends, BORE & LOSER, demonstrating their respect for those who paved the way; the voiceless have legitimized their voice. Join us April 7th for this insightful Graffiti & Mural Discourse and enjoy philosophical and historical conversation provided by 1Culture Art Collective.
---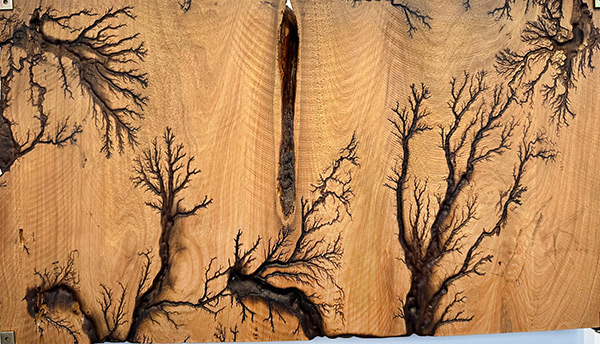 Mẹ Earth Exhibit
Chopsticks Alley's "Mẹ Earth" Exhibit featuring artist and designer Tuan Tran, a Vietnamese American artist based in the Bay Area whose work breathes new life into old objects that were once fated for the landfill. As an eco-friendly artist, he transforms materials that can be recycled or repurposed into contemporary, eclectic, and interactive art.
5:30 – 8 pm – Laos Paper Weaving Art Making Activity
---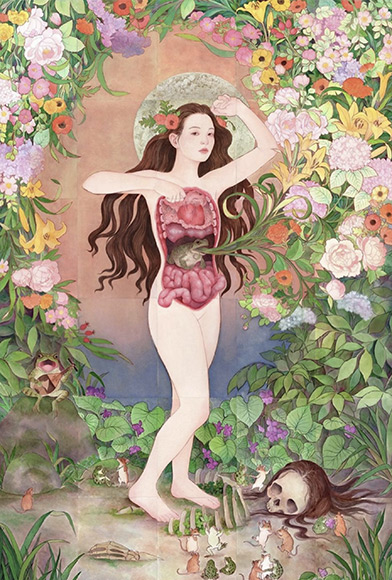 Opening reception: Death, Destruction, and Whimsey
Participating Artists: Chris Verez Bunz, Cynthia Yadira Gonzalez, Hana Lock, and Lydia Rae Black, artist and guest curator.
Beauty and trauma collide in this meditation on the failures of society to understand the artist as a complete person. Four artists from extremely different backgrounds have arrived at the same conclusion—the role of the artist is filtering noise, and art is a reaction and symptom of current conditions. Avoiding the onerous expectation of providing entertainment, artists rail against the soulless manufacturing of hopeful work in a social climate that can only be described as hostile to emotional health. The exhibition will present the paradox of creating for nobody but yourself, but wanting to set it in front of an audience anyway.
---
Martha Gardens District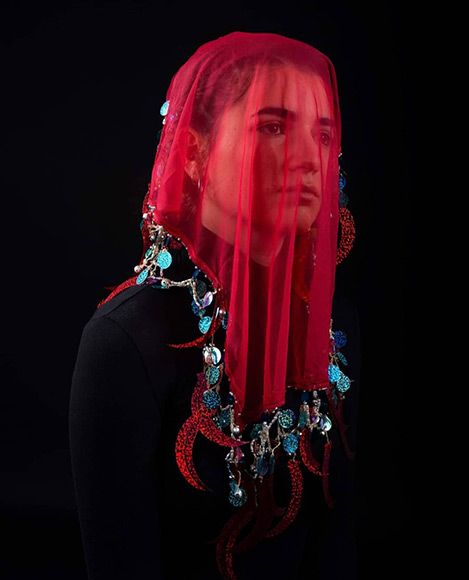 Closing reception: The Oldest Party In the World
Participating artists: Atra Givarkes, Esther Elia, Maryam Yousif, Rabel Betshmuel, and Romane Iskaria.
AKITU, the Assyrian New Year is known to be the oldest celebration in history with records dating back over 4,000 years.Today Assyrians celebrate Akitu on the 1st of April (Kha b-Nisan) using the Gregorian calendar; this ongoing celebration of the renewal and rebirth of nature is testament to the resilience of this ancient community. The artists in this exhibition are showcasing contemporary art in a variety of media inspired by the millennia-old festival of Akitu.
---
FUSE presents at the Citadel Art Gallery- 199 Martha St. map
Closed this evening.
---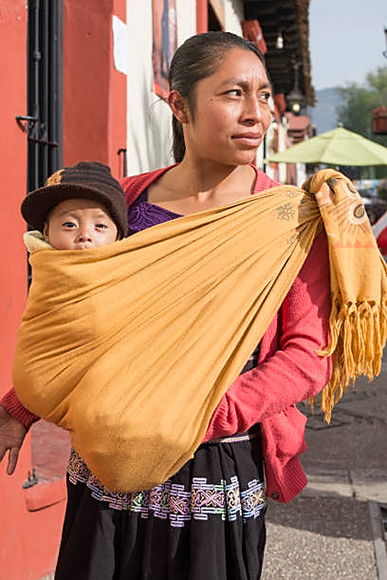 Mexican Rebozos / Rebozos Mexicanos
Rebozos are handwoven shawls made by indigenous women in various regions of Mexico.
They are weaved in backstrap looms using natural fabrics such as silk, cotton, and sheep's wool. Rebozos have many purposes as seen in evidence of Mesoamerican ancestral cultures. However, the shawls are mostly associated with giving women support during the birth process and help women carry their babies around. Most rebozos are made by Mayan women and Zapoteca women, and they handknot very fine, intricate fringes as the finishing touches. San Luis Potosi is another state in Mexico known for creating the famous and beautiful rebozos.
---
South FIRST FRIDAYS
366 S 1st Street
San Jose, CA 95113
408-271-5155
info@southfirstfridays.com
---