The South FIRST FRIDAYS Art Walk & STREET MRKT are back! We are fully open and ready to welcome you into our galleries, museums, and indie arts community. All venues are open for in-person visits from 5–9pm. The nighttime urban faire, STREET MRKT, is from 5–10pm featuring the work of 50+ artists, performers and indie creative businesses out on S. 1st St. in SoFA District. Please join us for this rare community experience!
---
AUGUST EXHIBITIONS
ANNO DOMINI // the second coming of Art & Design – 366 South First St. map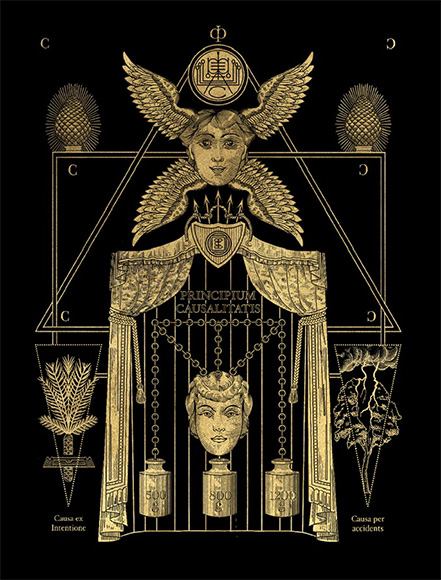 Anno Domini // the second coming of Art & Design is proud to present:
Opening reception: Imago Philosophia by LeonKa (Spain) solo exhibition

LeonKa (Spain) returns to Anno Domini with Imago Philosophia; a new series of prints in his signature palette of rich black and luminous gold. The subject of his work deals with various philosophical topics, among which knowledge and causality are the most important. For this, the function of the objects is used in order to understand the symbolic meaning of the terms assigned to the objects. Thus, we see a work dedicated to causality according to David Hume, another dedicated to causality according to David Lewis, and yet another to certain medieval and Renaissance conceptions on the same subject such as those explained by Francisco Suárez. Likewise, we will find several works dedicated to a type of knowledge derived from the experience gained by observation. Several ocular instruments and eyes are used illustratively to capture this knowledge (by observation)

About the Artist:
LeonKa is a PhD in Philosophy from the University of Barcelona. He obtained it with a thesis on ontological dependence relationships. He started writing graffiti in 1991 and was part of the ONG streetart group. Currently he also performs tattoo work at Etther museum (Valencia) and Ondotattoo (Barcelona). He has spent years studying iconology and scientific models, trying from the function of the objects to find a new symbolic content.

LeonKa has had several solo exhibitions in Spain & Germany, as well as featured in group exhibitions in England, Italy, Denmark, Ireland, France, U.S. and Spain. Things, Mereology and Schemes at Anno Domini in August 2016 was LeonKa's first solo exhibit in the U.S.A. He currently lives and works in Barcelona, Spain.
---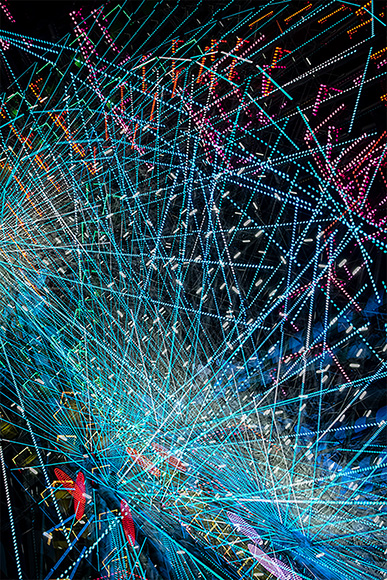 Opening reception: Beacon by Joshua Curry

A psychedelic journey across the country that tunnels back through innerspace. Featuring new photography, holographic collage, video, generative art, and sound art by San José artist Joshua Curry as our current Artist-In-Residence.
---
FUSE presents at the Citadel Art Gallery- 199 Martha St. map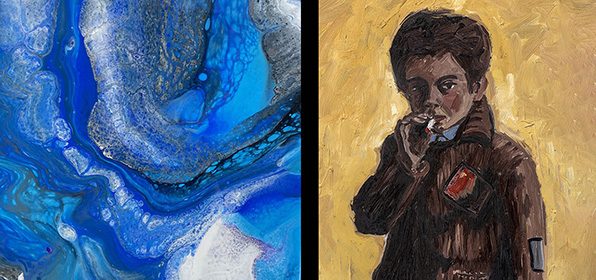 Opening reception: FUSE presents: A Silver Lining by Haley Goodlett and Emmanuel Cervantes-Mejia
Inspiration From Landscape and Memory
---
KALEID Gallery is proud to present two new feature exhibitions by resident artists Julie Barrett and Bryson Bost for the month of August.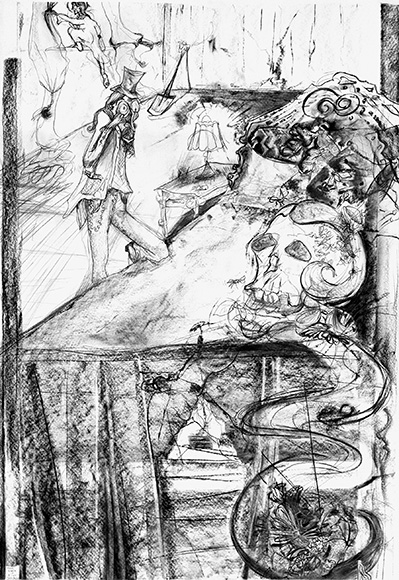 Opening reception: Helen: Queen of the Flies drawings and short film by Julie Barrett
with live music by Mike Glendinning (5:30pm & 7:30pm)

Carl is in love with a girl named Helen.
Others don't approve of his desires.
"She's too pretty," they say.
"She's too young," they say.
"She's too dead," they say.
He is not deterred, he loves her.

"Helen: Queen of the Flies" is Julie Barret's new series of drawings and accompanying short film about an obsessive love. A love that brings despair upon oneself and despise from others. Julie's drawings are her imagined depictions of true events of nearly a hundred years ago that drove a man beyond the edge of reason over a young woman. This account that Julie illustrates so delicately and hauntingly, is beyond a specific tale, it is a universal allegory for the heights and depths that love can provoke in us.

Julie Barrett is a Bay Area artist and teacher.

---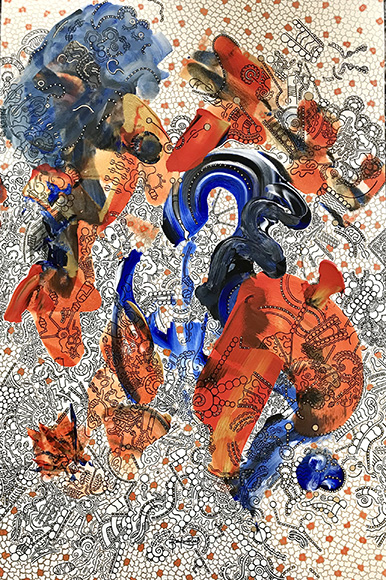 Opening reception: Leaves and Embers new works by Bryson Bost

This new body of work presents 8 abstracts that travel through the spectrum of cools and warms.
We begin with silvery blues to decadent reds.
Nature is at the core, from a verdant field, to an engulfing storm.
Creations designed to connect their viewers to a time before tech.

Bryson received guidance at the Instituto Allende in Guanajuato, Mexico. He has collaborated with interior designers from Seattle to Scottsdale. Hospitality and gratitude are tethered to his creations. Fine art lovers appreciate the many details swirling about his one of a kind abstractions. His motto since the beginning has been: "always by hand, alway original."

---
MACHU PICCHU Gallery of the Americas, Est 1974 – 199 Martha St. map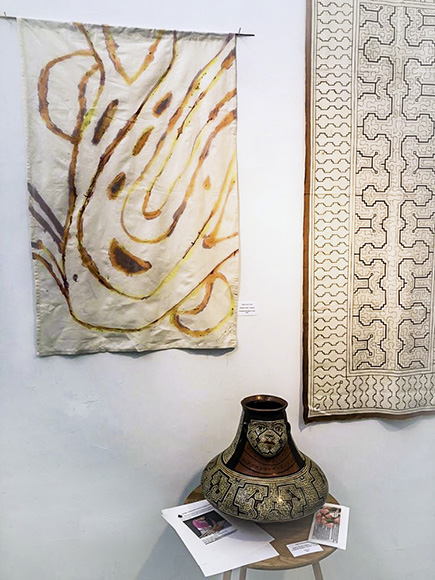 SHIPIBO, Rainforest of Peru Folk Art and Contemporary Textile Inspired

Featuring work by Shibibo tribe and Olga Enciso Smith

Flying over the dense rainforest of Perú years ago, I was overwhelmed to view the magnitude of the vast territory. I could see the intense shades of green vegetation like a very thick carpet. This "thick carpet" completely covers and hugs the Peruvian and Brazilian land. The vastness is at various areas separated by silver color lines. Each curving, undulating and kilometers long are wide rivers tributaries to the awesome Amazon River. "These silver lines are like the Creator's gigantic handwriting on our earth", says Olga Enciso Smith, founder of Machu Picchu Gallery of the Americas. She continues: "Upon landing, I visited the Shipibo village where the Native people showed my group and I their handmade creations. The lines—some curved, some geometric in the cloths and ceramics were just like the rivers I had just seen from the air. In fact, the Shipibo say the lines are the rivers of the land. The earth tone colors are acquired from their natural environment such as: ashes and plants. They paint with fine brushes made from their own hair".

First Friday hours: 3- 8pm

Visitor must text first for access Citadel building: 408-529-2296 or email MachuPicchuGallery@hotmail.com

---
MACLA Movimiento de Arte y Cultura Latino Americana – 510 South First St. map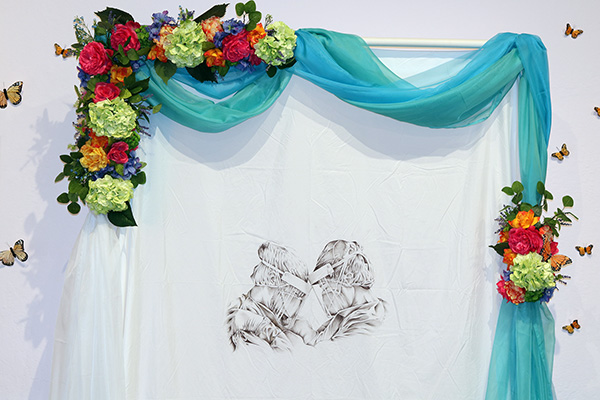 On view: Natalia Anciso Solo Exhibition
The Natalia Anciso Solo Exhibition is a sentimental experience and there is an opportunity to honor our loved ones who have passed due to COVID. If you'd like to participate, we invite you to bring a photo of your loved ones that passed due to COVID.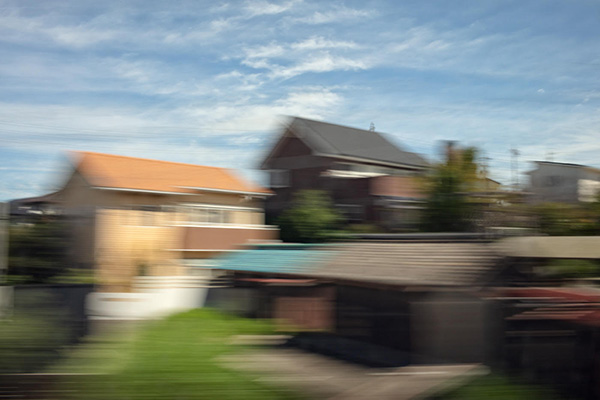 Opening reception: David Pace: Speaking Through Images

Kind, warm, and always full of enthusiasm, David Pace was a soft-spoken man who spoke from his heart and through his art and images. He was an integral part of the ICA, serving on the board of directors for 25 years and chairing the curatorial committee for more than a decade. He guest-curated well-received ICA shows, including "This is not a Book" in 2001 and "Photographer Unknown" in 2002, and, for many years, provided installation shots for the website for almost every exhibition.

His photographic work includes a decade-long project on life in a rural village in Burkina Faso that was featured in Venice during the 2019 Biennale; a series of photographs he called "Velocity" taken from the Shinkansen bullet train between Tokyo and Kyoto; and a series documenting collections of plumb bobs, tin cars, shoes, and toys, "Re: Collections." (David himself was an avid collector of old toasters, plastic saints, and power ranger action figures.) Working frequently with other artists and writers, he created award-winning music videos and books.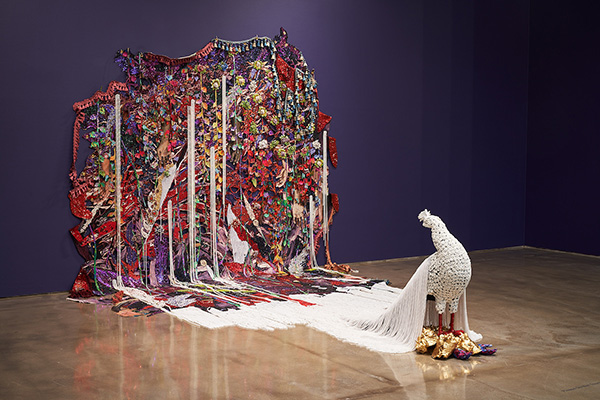 On view: Ebony G. Patterson:…when the cuts erupt…the garden rings…and the warning is a wailing…

The ICA San José is hosting the first solo exhibition of Jamaican-born Ebony G. Patterson on the West Coast. The exhibition …when the cuts erupt…the garden rings…and the warning is a wailing…, features a large-scale, five-panel work displayed with custom wallpaper, a sculptural and tapestry installation and two large works on paper hung as a diptych. The exhibition is mixed with additional works by Patterson showing the development of the garden motif throughout her career. Patterson has long been fascinated by the garden and its metaphorical possibilities.

The garden is a "postcolonial" symbol in her work, where the invisible remnants of violent histories interrupt visible space. The garden offers many rich possibilities for interpretation – life and death, transplanting and notions of "native" vs "foreign," beauty, danger, wealth, and sin. Beginning with trees and plants amongst portraits and figurative work, the garden started as a background element which over the past eight years has developed into a focal point of Patterson's work.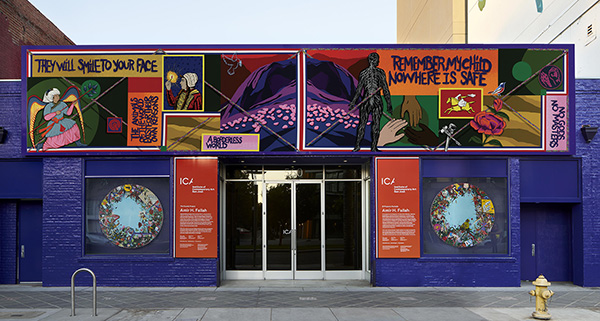 On view: Amir H. Fallah: The Facade Project

Appropriating images from across history, geographical regions, popular and art historical sources, and personal and universal references, Amir H. Fallah deftly creates new meanings through a fully original language of vibrant color. With his own web of sources, Fallah points to his own navigation of Iranian and American identity, reminding us that being American today often means one does not identify solely with any single nationality or heritage.

It is his insistence on the complexity of identity, parsed through the language of painterly delight, that makes Fallah such a powerful inaugural artist for the ICA San José Facade Project. Amir H. Fallah: The Facade Project includes a fifty-foot mural and two six-foot circular paintings that offers an entirely new conception of the relationship between the street and the building's architecture at a time when the galleries within the building must remain closed.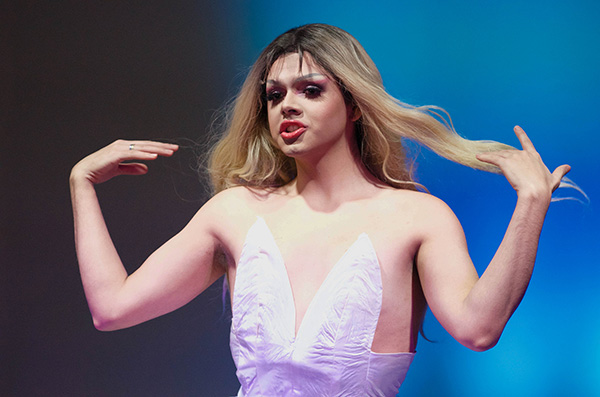 5-10pm Express Yourself w/ The LGBTQ Youth Space A Celebration of Identity and Individuality

Celebrate Silicon Valley Pride with the ICA at First Friday's ArtWalkSJ! Join the ICA and the LGBTQ Youth Space for our celebration of identity and individuality at the outdoors South FIRST FRIDAYS Street Mrkt in front of the ICA. Highlights include a drag show (7pm), makeup demonstrations, hands-on projects, and a photo booth!
---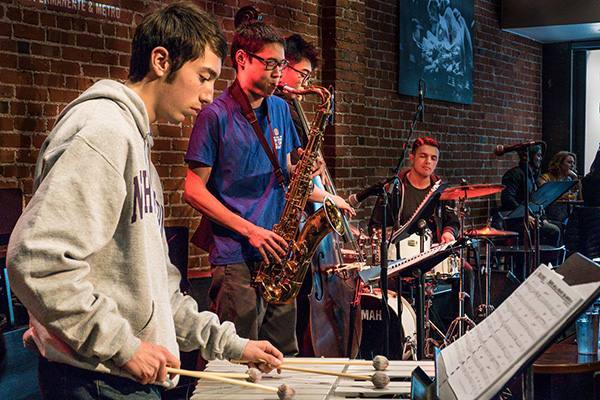 U19s Combo Performance

7-9pm San Jose Jazz celebrates the return of Summer Fest with a concert by its High School All Stars U19s outside its offices on the corner of First and San Carlos.
---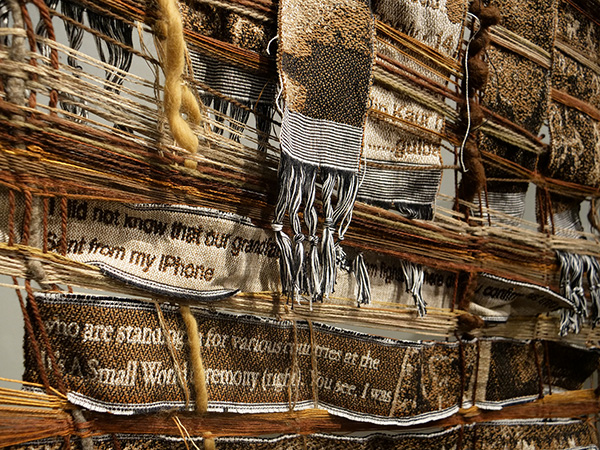 On view: I Was Inda: Embroidering Exoticism by Kira Dominguez Hultgren
On view: Stars and Stories: American Art from the Permanent Collection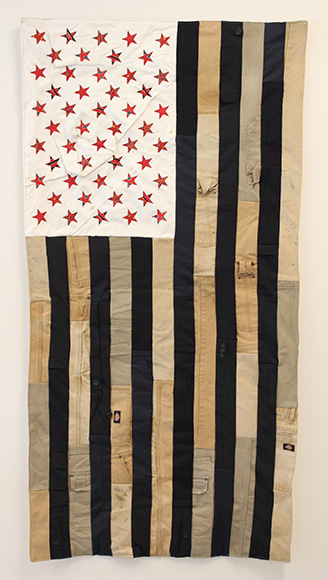 On view: Ryan Carrington: Contradictions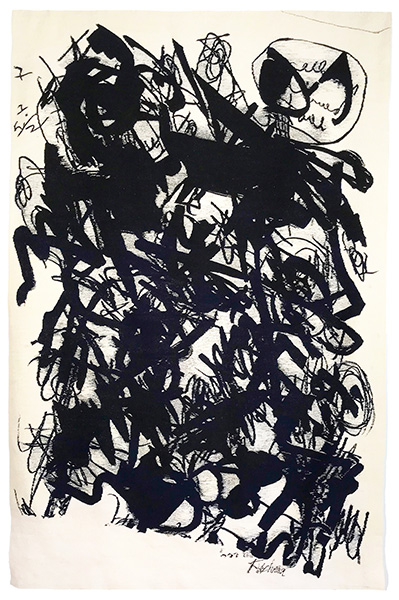 On view: American Tapestry Biennial 13
---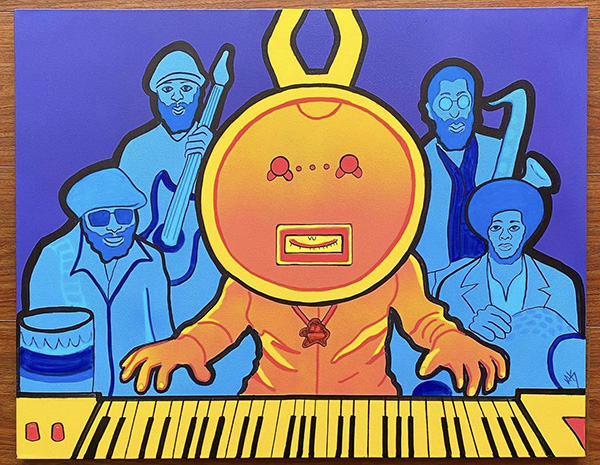 On view: Graffiti Art In Urban Culture by Akeem Raheem

Akeem Raheem is a Bay Area native graffiti artist with ties to Detroit, Michigan. He transformed from illegal graffiti-art on walls to graffiti-inspired art on canvas. Akeem is very vocal about the irony and humor he sees in life, and advises you to laugh at life too. This is graffiti art that you normally see on walls and trains on a take-home canvas.
---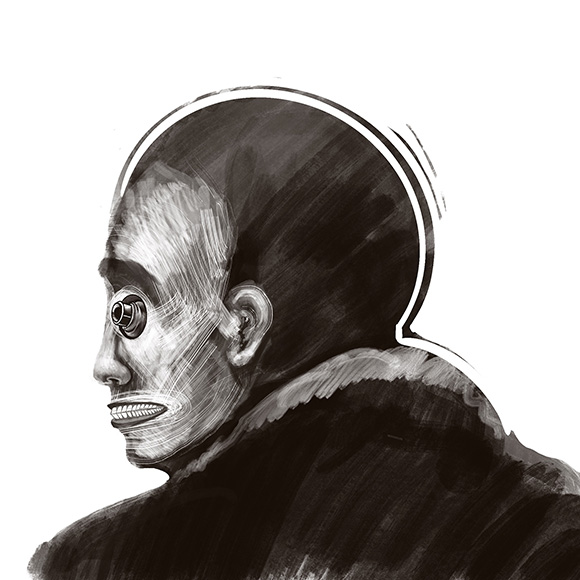 For August First Friday, Works presents a projection art installation booth out at Street Mrkt on South First Street featuring a myriad of South Bay artists. Meet us on South First Street and see mini-murals in progress outside the gallery on South Market.
---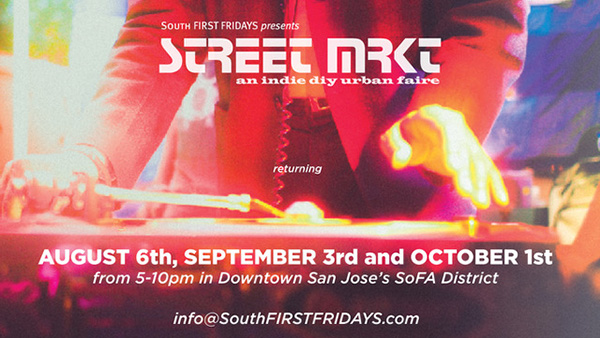 STREET MRKT a nighttime hyper-local DIY urban faire featuring artists, performers and indie creative businesses.
First Friday AUGUST 6th from 5–10pm
Free admission & great for all ages.
Find us out on S. 1st St. between San Carlos & Reed streets in SoFA District.
Street Performances:
Calpulli Tonalehqueh Aztec Dance (7:30pm)
DJs Flipside Lovers (5-10pm)

Participating Artists & Indie Creatives:
Atiso Garden, Bolo Vintage, Caesura, Calpulli Tonalehqueh Aztec Dance (7:30pm), Arely Cardenas, Classic Loot, Jhovany R De Ala, Sharon Deibert, Kirsten Dorsey, Ruben Escalante, Faerie Goatmother, DJs Flipside Lovers (5-10pm), FUSE Presents, Mark Gomez, Cynthia Gonzalez, Hand in Hand Henna, Matty Heimgartner, Higher Fire Clayspace & Gallery, Christine Hofstetter, Maureen Holcomb, Inside Out Clothing, KathyKay Shirts & Kimonos, Nao Kondo, David Krase, Le Joe, LGBTQ Youth Space, LINK by Superpedestrian, The Local Creative Show, Frankie McFly, Joe Mandrick, Jodi Mascarenas, David Mejia, Poet Mighty Mike McGee + Friends, Bruce Miles, More Más Marami Arts, Sean Nash, Jean-Luc Pedanou, Leslie Perez Designs, Petite Galleria, Plant Theory Co., Poetry Center San Jose, Al Preciado, Francisco Ramirez, Marilyn Roaf, SJ Institute of Contemporary Art, Second Hand Hustle, South Bay Burners, Stay Tuft Rug Co.,Tochtli Wear, Willow Workshop Collective, Works San Jose, Zonkey Toys

In addition to SoFA District neighborhood restaurants being open, we'll have the 3 Brothers Kitchen and Road Dogs food trucks on site (located near the Beer Garden at S 1st and William St.)
STREET MRKT Beer Garden features selections from our generous sponsor LVL Uproar an independent brewery, gastropub and arcade now open in the SoFA District. Please join us for a cold one and some great vibes by DJs Flipside Crew (located in Parque de los Pobladores at S 1st and William St).
Thank you to all of the participating artists, indie-creatives, our galleries and museums, and the SoFA District businesses that work with us to makeSTREET MRKT the best place to be in downtown San Jose on FIRST FRIDAY AUG 6th, SEPT 3rd and OCT 1st .
---
Join us on Facebook ArtWalkSJ
The South FIRST FRIDAYS Art Walk + STREET MRKT is produced by CURATUS in collaboration with the participating art venues, local artists, musicians and independent businesses.

STREET MRKT is supported in part by a Cultural Affairs grant from the City of San Jose.