The South FIRST FRIDAYS Art Walk invites you to a unique evening of great exhibitions in galleries, museums and art supporting businesses June 3rd from 5–9pm, free admission, all ages welcome, rain or shine.
The 13th Annual SubZERO Festival is a DIY, artistically bent, hi/lo-techno mashup where street meets geek. First Friday, June 3rd & Saturday, June 4th 5–11pm both nights. Out on S. 1st Street in SoFA District.
All ArtWalk venues and SubZERO Festival are free admission (spend it with the artists!) and family friendly.
---
JUNE EXHIBITIONS
ANNO DOMINI // the second coming of Art & Design – 366 S. First St. map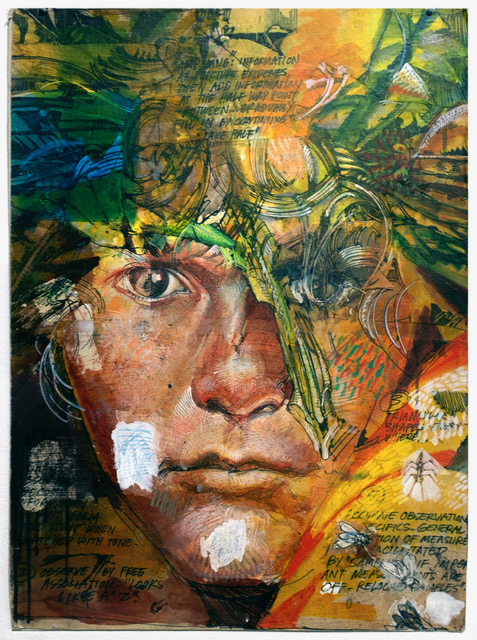 On view in galleryONE:
"The Illustrious Barron Storey" solo exhibition
Barron Storey returns to Anno Domini for his 8th solo exhibition: "The Illustrious Barron Storey." This survey includes selected commercial illustrations created over a 40 year span as well as personal drawings and paintings from Barron's renowned journals.

Barron Storey (born 1940, Dallas, TX) is an American illustrator, graphic novelist, and educator. He is famous for his accomplishments as an illustrator and fine artist, as well as for his 30+ year career as a teacher.
He trained at Art Center in Los Angeles and under Robert Weaver at the School of Visual Arts in New York. A commercial illustrator since the 1960s, Storey's clients have included major magazines such as "Boys' Life", "Reader's Digest", and "National Geographic." His cover portraits for "Time" of Howard Hughes and Yitzhak Rabin hang in the Smithsonian's National Portrait Gallery. His giant painting of the South American rain forest hangs in New York's American Museum of Natural History, and a 1979 rendering of the space shuttle commissioned by NASA, the first official painting ever done of it, hangs in the Air and Space Museum on the National Mall.
As a book illustrator he has done cover illustrations for the Franklin Library classics, "War and Peace", "The Good Earth "and "Stories by Sinclair Lewis"; as well as the covers of "Fahrenheit 451 "by Ray Bradbury for Del Rey / Ballantine; and, most famously, the 1980 reissue of "Lord of the Flies" by William Golding.
Storey has also published many comics and graphic novels, including "The Marat/Sade Journals" (Tundra), which was nominated for an Eisner Award, Neil Gaiman's "The Sandman: Endless Nights" (DC/Vertigo) which won an Eisner, "Tales from the Edge #1-10," Barron Storey's "WATCH Magazine" (Vanguard), and "Life After Black" (Graphic Novel Art). Not only has he been the teacher of comic giants as Kent Williams and George Pratt, but he was also a key inspiration for artist/illustrators Dave McKean, Bill Sienkiewicz, David Mack and David Choe.
---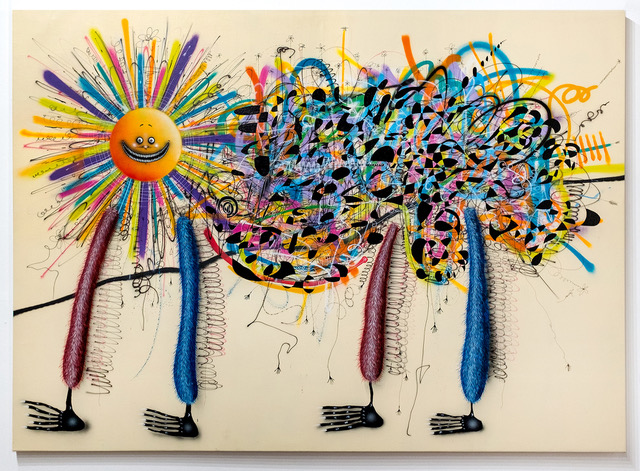 On view in galleryTWO:
"I AM BACK!" Yoshi47 (Japan) solo exhibition
San Jose is the place where I started becoming an artist, showed my works and did live-painting for the first time in this city. This series of my works are all combined old and the latest works together, so that people can at least see my path and process of being where I am now.

Each era has its own story, and the recent concept is about "Texture", "Nature", and "Imperfection". These are the words that I always care about to pursue the way I express the beauty. Texture has its own cultural background and it is sometimes shows us deep inside with a unique balance with colors and design. Nature tells us how severe and sweet the world is. Imperfection shows how lovely the human beings are. These 3 words are the spine of my art inspiration.

About the Artist:
Yoshi47 (born 1981, Gifu Prefecture, Japan)

At the age of twenty, Yoshi47 moved to California, U.S.A. to pursue an art career. He spent four years in the Bay area doing live painting and participating in both solo exhibitions and art events. While living in San Francisco, he discovered a small group of avid bicyclists and became a bike messenger. It was through his experience as a courier that he found his essence of life and the conceptual basis for his art.
In 2006, he returned to Japan. Initially he lived in Tokyo, where he continued to work as a messenger and became involved in the bicycle industry. He eventually relocated to Kariya City for two and a half years to focus on his artistic and business endeavors.
In 2010, he spent eight months in Tochigi and afterward returned to Tokyo. He is involved in art curation, graphic design, and collaborative projects with companies such as NIKE, SWATCH, VANS and more. He continues to exhibit his artwork worldwide such as Australia, China, America, Canada, France, Mexico, Sweden, and Taiwan. He currently resides in a country side, Atsumi Peninsula in Japan, where he can bike, surf, fish, camp and snowboard.
---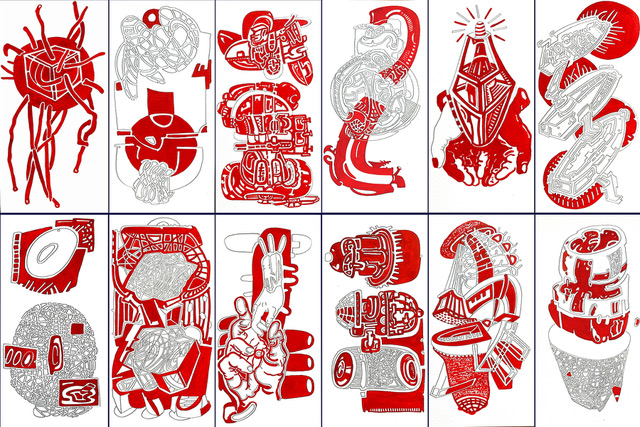 "Snippets" by Emanuela I. H Sintamarian
Ema Harris-Sintamarian is an artist originally from Romania whose work is informed by the relationship of her identity to her sense of displacement, and the ways she has devised to reconcile these incongruous elements. Her intricate yet expansive drawings tackle the dichotomy between containment and liberation by infusing a static diagram with a charge that propels it into motion.
---
Closed this evening.
---
MACHU PICCHU Gallery of the Americas, Est 1974 – 199 Martha St. map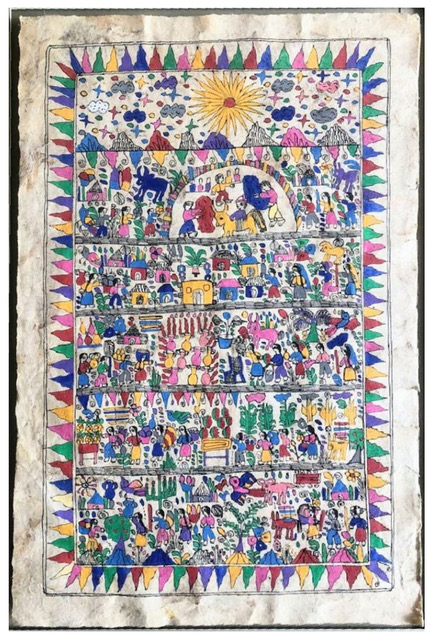 "My Beautiful Village/Mi Aldea Hermosa"
Amates (tree bark paper) paintings from Mexico by Reynaldo Ascencio and others
"Amate" paper (in Nahuatl: amatl) is a type of vegetable paper whose origin dates back to the pre-Hispanic era of Mesoamerica in Mexico. The Otomí Indigenous Ethnic Group preserves this tradition in San Pablito Pahuatlán (Magic Town in 2012) Sierra Norte de Puebla, Mexico.
Artisanal process: from a piece of the bark of the tree that is boiled with lime and ash, and then left to rest for a few days. The paste that comes out of this mixture must be spread out completely and hit with a flat stone so that it is ironed and smooth. Once it dries completely under the sun's rays, the paper is ready for painting.
El papel amate (en náhuatl: amatl) es un tipo de papel vegetal cuyo origen se remonta en México la época prehispánica de Mesoamérica. La Etnia Indigena Otomí conserva esta tradición en San Pablito Pahuatlán (Pueblo Mágico en 2012) Sierra Norte de Puebla, México. Proceso artesanal: de un trozo de la corteza del árbol que se hierve con cal y ceniza, y después se deja reposar algunos días. La pasta que sale de esta mezcla se debe extender completamente y se golpea con una piedra plana para que quede planchada y lisa. Una vez que se seca por completo bajo los rayos del sol, el papel está listo para pintarlo.
On view First Friday June 3rd from 5-8pm, Saturday June 4th from 4-8pm, other times by special appointment. To enter, text 408 529 2296 or email MachuPicchuGallery@hotmail.com
---
MACLA Movimiento de Arte y Cultura Latino Americana – 510 S. First St. map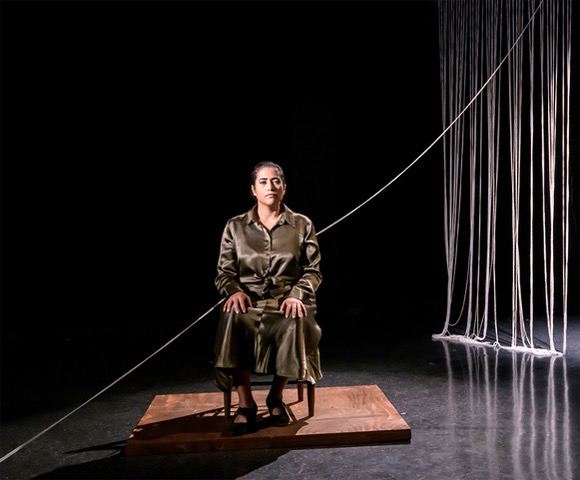 "On Traditions and Repetitions" group exhibit featuring: Carolina Cuevas, Paty Botello, Angela Arteritano, Jorge "J.Duh" Camacho
"On Traditions and Repetition:" there's a certain degree of familiarity that comes with seeing or doing something more than once, even more so when that something has been replicated time and time again. This exhibition showcases the work of artists who have preserved the traditions of the past in a modern way.
Live performance art piece by Angela Arteritano.
---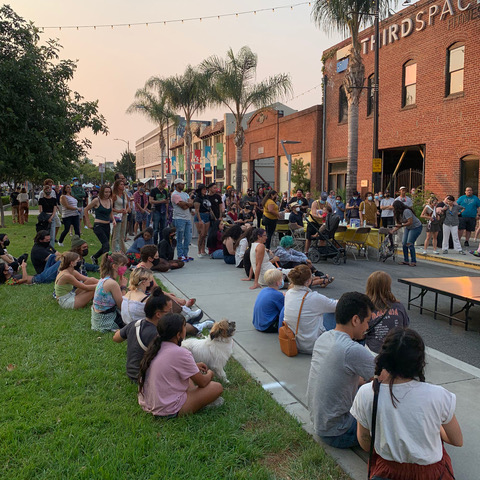 Experimenting with the Arts w/ Starting Arts
Visit the ICA and Starting Arts on June 3rd for the South FIRST FRIDAYS ArtWalk & SubZERO Festival! It will be a night full of performance and art activities for all ages, including Gelli Printing outside the ICA with artist Jennifer Barber. (5-7pm) We will provide materials, all you have to do is bring your imagination! Experimental prints are yours to take home and display, so come create with us!
From 6 to 6:30pm join Starting Arts for a series of short numbers from their Seussical Jr. Let's have fun and visit the artists, performers, and musicians celebrating the San José community!
About Starting Arts:
Starting Arts was inspired by the simple observation that something special happens when young people connect with the arts. Arts education creates opportunities for students to develop key life skills and evolve into confident, articulate, team-conscious members of our communities. Starting Arts, which was founded in 2000 at one elementary school in Santa Clara, now serves over 45,000 K-12 students in 125 schools in the Bay Area. They provide hands-on arts experience in 4 disciplines (dance, music, theatre and visual arts) in classes taught by skilled professional artists eager to share their expert knowledge and passion with students.
Exhibitions on view: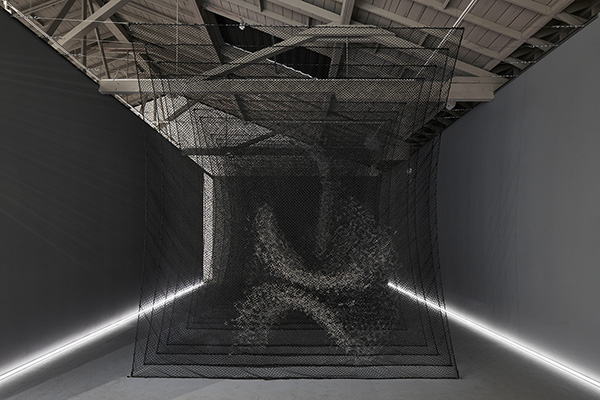 Soo Sunny Park: Viewing Filter (Veil of Vision)

For Viewing Filter (Veil of Vision), Soo Sunny Park investigates visual perception through the use of reflective surfaces, grids, and variable light conditions. Her large-scale, immersive installation will be built out of retro-reflective paint and nylon netting, stretched into curtain-like forms. Layers of accumulated drawings, on different layers of the netting, will create a sense of amplified depth in a 3-dimensional floating space. Visitors will walk through the gallery and be able to interact with the space using their camera flashes and phone flashlights.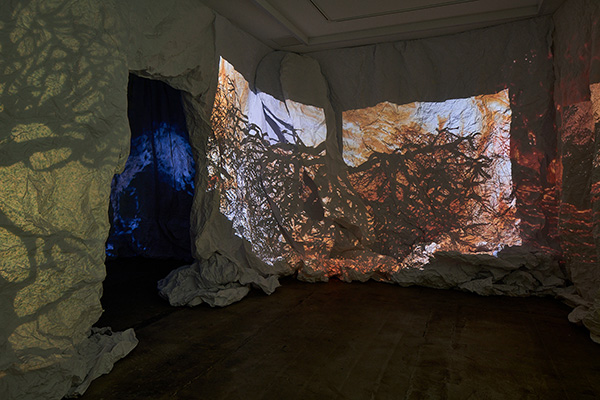 Facing West Shadows: The Endless End
Facing West Shadows: The Endless End is a cinematic, sculptural installation created by Facing West Shadows at the Institute of Contemporary Art San José. Facing West Shadows: The Endless Endilluminates the perpetuation of extinction and survival; the disrupted life cycles of native plants and animals, aquatic systems, and fire ecologies as affected by anthropogenic climate change. The viewer's attention is guided through projected moving images, hand-made animation, and cast shadows with a multi-dimensional soundscape.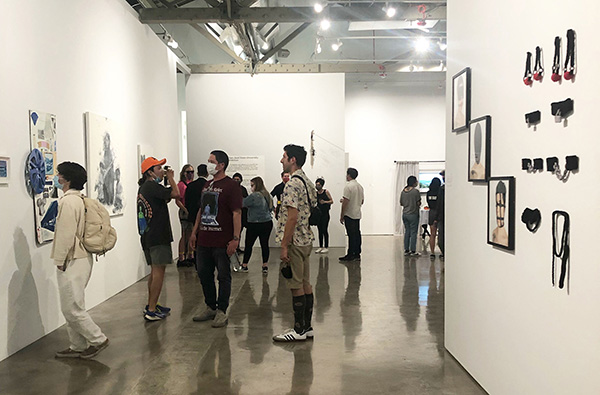 Liftoff: San José State University MFA Thesis ExhibitionFeaturing: Kelcey Bauer, Heather Brown, Jennifer Cannon, John Joseph Contreras Romero, James Jenkins, Oscar Lopez, Peter Moen, Felix Quintana, Jackelin Solorio, Tyler Stannard, Ashley Ann Vaughan, Natalia Vihreva

At the beginning of their final year at San José State University, MFA students in art practice partner with MA students in Art History and Visual Culture to negotiate the strange territory between theoria (thinking), poiesis (making), and praxis (doing). Together, they find their voices through one another's practices. Students at San José State University (SJSU) join a legacy of thinkers, activists, and innovators dedicated to the public good.
---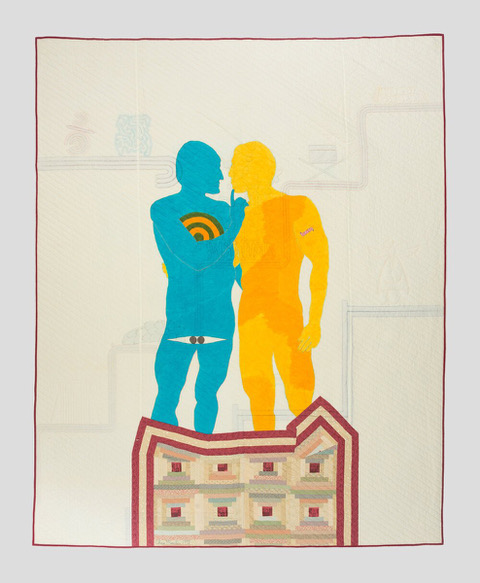 45th Anniversary Exhibition: "New Directions" featuring SJMQT Past Artists in Residence
This special anniversary exhibition highlights recent acquisitions at San Jose Museum of Quilts & Textiles in a series of thematic installations spanning three galleries. "New Directions" prominently features recent artwork from SJMQT's Artist in Residence program.
Established in 2016, this program supports local artists with on-site studio space and opportunities to exhibit work in the Museum's Maker Space Gallery. Works of art gifted by the Museum's many donors and patrons appear in each section of New Directions. Their generosity and dedication allow us to expand SJMQT's collections and cultivate curiosity, wonder, and excitement in our audiences.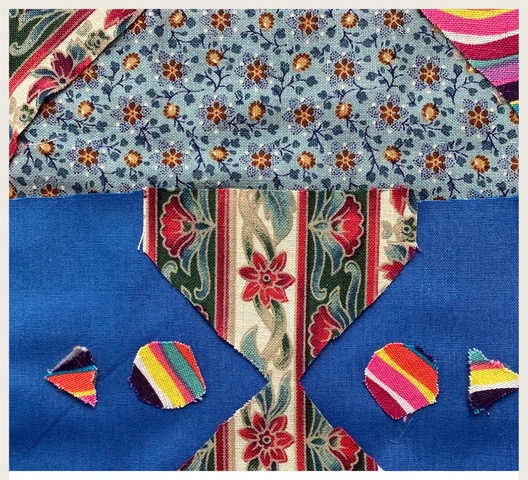 "Coming Together – A Quilt for Healing"
SJMQT and the Kids & Art Foundation celebrate their first collaboration inspired by the historic Gee's Bend Quilts featured in author Tangular A. Irby's children's book "Pearl and her Gee's Bend Quilts". The Kids & Art community project, "Coming Together, a Quilt for Healing," spotlights quilt squares created by pediatric cancer patients during an online art workshop lead by artist Caroline Robins and Tangular Irby. Volunteers and donors also contributed quilt squares as part of the community project in support of the Kids & Art mission to bring the healing power of art to children and families confronting childhood cancer.
---

"State Affairs" by Tim Hernandez & Kori Thompson
Two cousins. Two artists. One armed with a camera. The other with a paint brush. Living on different sides of California. This is their account of how they view the world around them. The show coincides with their zine release.
---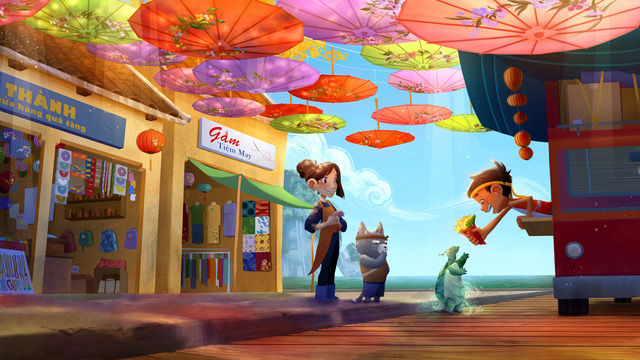 Works shows video previews of "Resurgence," an exhibition of new animators and character designers from SJSU, also on view at the gallery throughout SubZERO Festival.
We'll also be previewing our new gallery space under construction and talking with artists about opportunities to exhibit work in our downtown home as well as in exhibits we're mounting in the School of Arts & Culture gallery at Mexican Heritage Plaza. Come see how you can participate!
---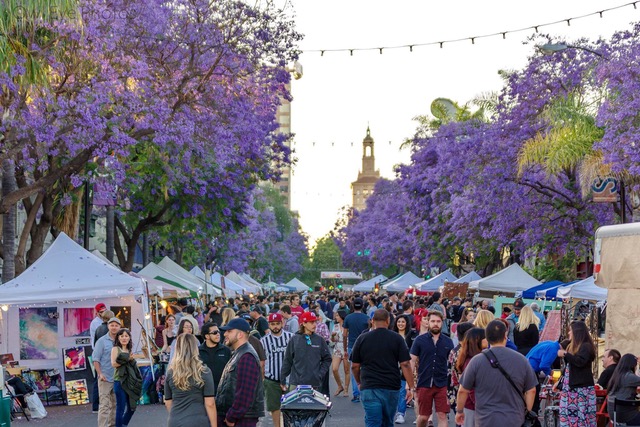 The 13th Annual SubZERO Festival
First Friday June 3rd & Saturday June 4th 5pm–11pm
Out on S. 1st Street in the SoFA District
Focused on emerging and present subcultures thriving in our region, SubZERO is a DIY, artistically bent, hi/lo-techno mashup where street meets geek.
Come downtown on June 3rd & 4th to San Jose's SoFA District from 5–11pm for an inspired evening of arts & culture. In addition to the South FIRST FRIDAYS monthly art walk you'll find 100 artists, performers & musicians celebrating the indie creative spirit!
All Hail the Progenitors of Culture!
2022 ARTISTS & INDIE CREATIVES:
1Culture
Antoñio Alcala
Bay Maples
BOLO Vintage
Bungalow Glow Candle Co.
Eric Calvillo
Arely Cardenas
Houyee Chow & Youth in Technology Incubator
Classic Loot Truck
Content Magazine + genArts
Crossroads Trading
Current Tattooing
the doomed generation
Faerie Goatmother
For the Love by Jordan Melvin
Force129 + Betty Proper
Francisco Franco
Cynthia Gonzalez + Jackelin Solorio
Francisco Graciano
Heiko Greb
Matty Heimgartner
Hand in Hand Henna
Haptic Synapses + Distortion Corporation
Higher Fire Clayspace & Gallery
Maureen Holcomb
Institute of Contemporary Art SJ
Jodi408
Summer Jones
The Local Creative Show by StageOne
Julianne McKAY
Frankie McFly
Rayos Magos
Joe Mandrick
David Mejia
Jasmin Mostafa
Anthony Palomo + Joseph Greeley
Gianfranco Palozzi + Sylvia De La Garza + Carlos Pérez + Sean Free Alcala
Jean-Luc Pedanou
Persephone Dance (performance)
Play is Soul Food (Mexico City)
Poetry Center San Jose
Purl Bailey aka Marilyn Roaf
Shayla Putnum
Akeem Raheem
Francine Ramirez + Marcel Toorians
Francisco Ramirez
Jhovany Rodriguez
Rene Schilling Sears
Geoffrey Smith II (official festival photographer)
Steamy Tech
Suha Suha Hand Made
Space Palette by Tim Thompson
Alisha Toni Design
Lily Tran
Tribal Baroque (performance)
Works San Jose
LIVE MUSIC:
FRIDAY
5:00-6:00 pm Flipside Lovers (and between sets)
6:00-6:45 pm Casual Vibes
7:15-8:00 pm Smith Weed Dobson
8:30-9:15 pm Ben Henderson & Friends
9:45-10:30 pm The Acharis
SATURDAY
5:00-6:00 pm Flipside Lovers (and between sets)
6:00-6:45 pm Godgifu
7:15-8:00 pm Future Twin
8:30-9:15 pm TBA
9:45-10:30 pm Body Double
• BEER GARDEN featuring local & regional breweries w/ great music provided by Flipside Crew featuring: Dougie, Jswizza, No Way Jose & Notorious P.I.G.
FOOD TRUCKS:
3 Bros. Kitchen
3 Hermanos Mexican Grill
De La Tierra Vegan Food
El Bombero 408
Fresh Catch Hawaiian Poke
Road Dogs
Scratch Cookery
---
Join us on Facebook ArtWalkSJ
The South FIRST FRIDAYS Art Walk is produced by CURATUS in collaboration with the participating art venues, local artists, musicians and independent businesses.
South FIRST FRIDAYS ArtWalkSJ (year-round except January & July)
JUNE 3-4, 2022 13th Annual SubZERO Festival
AUGUST 5, 2022 South FIRST FRIDAYS @ArtwalkSJ + STREET MRKT
SEPTEMBER 2, 2022 South FIRST FRIDAYS @ArtwalkSJ + STREET MRKT
OCTOBER 7, 2022 South FIRST FRIDAYS @ArtwalkSJ + STREET MRKT