Join us First Friday December 2nd for ArtWalk SJ in SoFA District (& beyond!).
The South FIRST FRIDAYS ArtWalk is a self-guided, nighttime tour through galleries, museums, and independent creative businesses from 5–9pm.
All ArtWalk venues are free admission and family friendly.
---
SoFA District
ANNO DOMINI // the second coming of Art & Design – 366 S. First St. map
---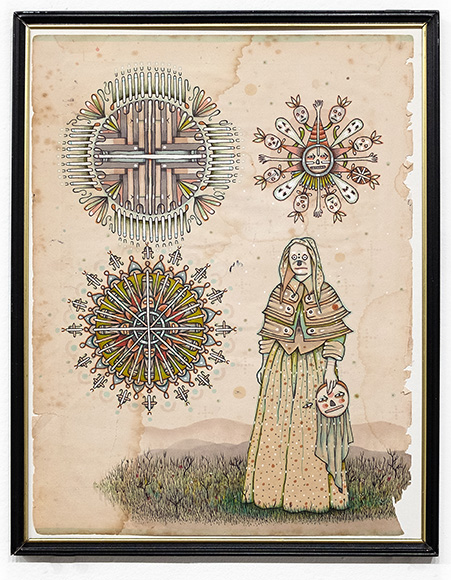 galleryONE
"because" Jeremiah Maddock (CO) solo exhibition
Using found aged paper as a receiver of the inks he mixes from dead pens and markers, Jeremiah renders haunting visual vignettes of his everyday personal experiences.
"because" is Maddock's 4th solo show at Anno Domini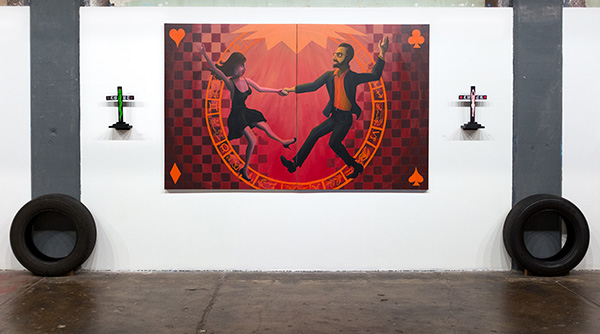 galleryTWO
"Strangers in the Night" Jake Watling (CA) solo exhibition
"Strangers in the Night," a series of new paintings and sculptures by Jake Watling. In his most personal series, Jake Watling works through thoughts and emotions of battling bone cancer and all the love and luck it took to get him through three separate bone cancer battles. This series is named after the song"Strangers in the Night," Jake and his wife Mahtab's song together, which, like this series, depicts the journey of the human experience.
In 2014 Watling was diagnosed with osteosarcoma, bone cancer. With a lot of love and support from friends, family, doctors, nurses and especially his wife, Mahtab, he made it through treatment and multiple surgeries. Unfortunately after he made it through the initial treatments and surgeries that wasn't the end of the war, he had to go through two more recurrances of metastatic bone cancer and more surgeries. Thankfully since 2020 he has been cancer-free and he is praying his battles with cancer are behind him.
Watling's new series of paintings and sculptures utilizes significant moments in space and time, both past and present, to symbolize a variety of emotional states that he had while going through cancer treatment and recovery; from the fear and anxiety of being diagnosed with cancer and looking death in the face, to the love he felt from those around him and the hope of a better tomorrow. Watling chose to set the paintings at night to represent the darkness and despair he went through during his battles with cancer, but within each of the paintings there is a source of light, both literal and symbolic, that brings hope, love and positivity to the artwork. Watling used himself and his wife as the protagonists within the paintings to show moments together along life's journey as well as to use them as symbols of the human experience, from their first glance as strangers in the night to life long partners in love forever.
About the Artist
Jake Watling forms his graphic narrative imagery by combining his recorded ideas and experiences with a personal language of signs and symbols. The signs and symbols take many forms, including: people, text, signage, cars, architecture, esotericism, religion, as well as others.
Watling received his B.F.A. from the College of Visual Arts in Minnesota. He has exhibited his artwork throughout the United States. His work can be found in many private collections as well as the Museum of Modern Art collection in New York. Watling currently lives and works in Oakland, California.
---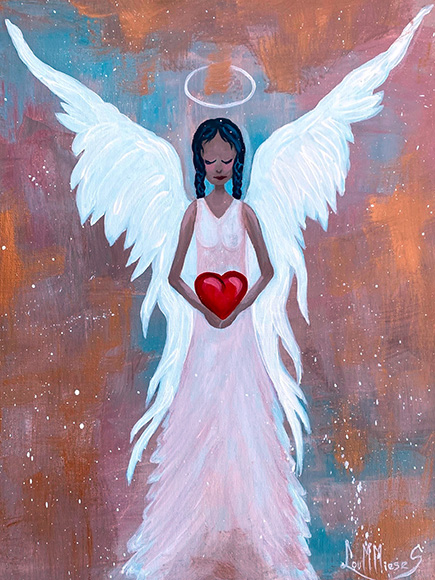 Opening reception: HARK! Annual Holiday Show & Sale

This year's highly anticipated HARK! Annual Holiday Show & Sale features well over 100 works of art by 38 exceptionally talented San Jose area artists at gift giving prices ($12–$250.)! All original & unique pieces created in a plethora of mediums including paintings, ceramics, sculptures, photography, illustrations and knitted creatures all ready to go home with you at time of purchase. Get all your holiday shopping done while supporting independent artists and creatives.

Participating Artists:
Darius B'Alexander, Julie Barrett, Delilah Bender, Sandi Billingsley, Julianne Bonnet, Bryson Bost, John Cambra, Jennifer DeChenner, Jemal Diamond, Mario Dimas, Jannis Espinoza, Force129, Maytal Gotesman, Heiko Greb, Kyle Harter, Matty Heimgartner, Xuan My Ho, Jonathan Kermit, Sarah Loyola, Valentino Loyola, Rayos Magos, Joe Mandrick, David Mejia, Julie Meridian, Lourdes Morante-Mieses, Jean-Luc Pedanou, Gianfranco Paolozzi, Jojo Perea, Spencer Platt, Betty Proper, Steven Reece, Jenifer Renzel , Leslie Ann Rice, Marilyn Roaf, Michael Rogan, Austin Sheldon, Suha Suha and Alisha Toni Designs
---
MACLA Movimiento de Arte y Cultura Latino Americana – 510 S. First St. map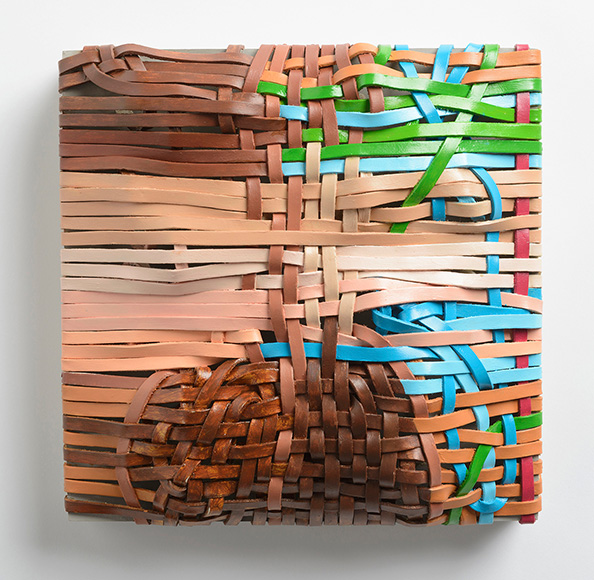 Opening reception: Pertenecer: To Belong
Participating Artists: Pilar Agüero-Esparza, Rayos Magos, Kristina Micotti, Hector Muñoz-Guzmán, Vanessa Wallace-Gonzales, Jennifer White-Johnson

This exhibition investigates the intercultural identities of Latino artists across the Bay Area and beyond. Through varying mediums, each artist shares glimpses into their experiences of feeling othered across different spaces and social conditions within today's culture. The spectrum of encounters have empowered each artist to lean further and deeper into their Latinidad, their work highlighting traditional techniques and iconography, indigenous homage, and references to every day life. By embracing their otherness, the artist can take control of their narrative and create their own space of pertenencia. This exhibition will feature the works of Pilar Agüero-Esparza, Rayos Magos, Kristina Micotti, Hector Muñoz-Guzmán, Vanessa Wallace-Gonzales, and Jennifer White-Johnson.

Join us for the opening reception during the First Fridays ArtWalk SJ and meet the artists, shop a local vendor holiday market, and listen to a live performance.
---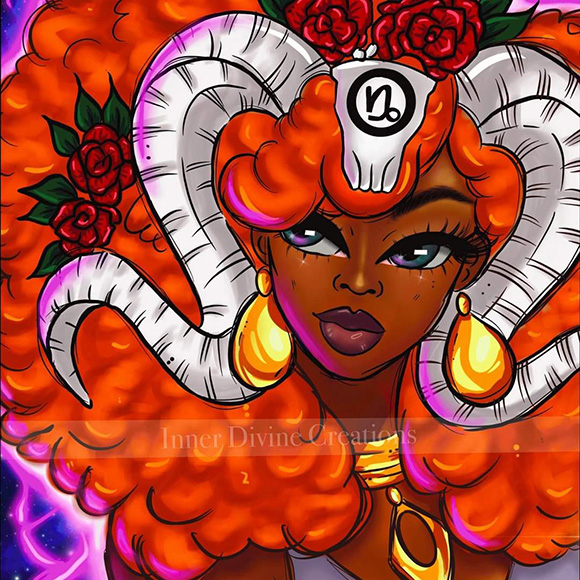 "Dreams and Doodles Self Love" by Inner Divine Creations
I create various types of art. One that I am truly proud of is my self-love journal and coloring book. Entitled "Dreams and Doodles," this book was created very intentionally. Each coloring page was created with the hope of a full page of creative colors, designs and sayings all of your own. So really go for it!
The affirmations are inspiring reminders for yourself to repeat aloud through your day in any situations that you may need them. Manifestation pages are an opportunity for you write out your dreams and desires with the intentions of making them a reality. It is also a reminder that whatever we speak, think or believe has a real chance of becoming a part of who we are as a person. My husband Jamar, created each poem inside, each uniquely written to inspire and uplift its reader.
All of my art prints are original art that I created myself. I love to use deep vibrant colors that bring a piece of unique artist life to your living space. Something that just makes you feel good when you look at it. By adding a custom-made frame or a purchased frame that you love, you will truly have a masterpiece on your hands. ~Khadija / Inner Divine Creations
---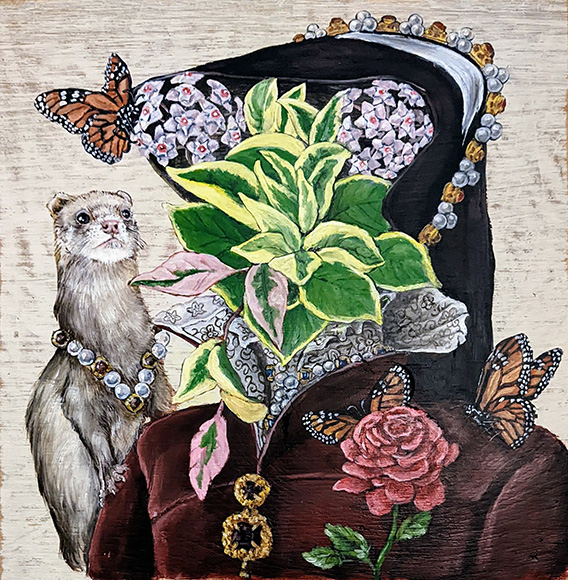 Phantom Galleries is proud to present:
"The Secret Life of Plants" by Diana Hartman solo exhibition
With a love of nature and story telling, Diana will portray any living thing that inspires her. She began with animals, but went on to paint portraits of vegetables, seaweed, cacti, plants and trees. Her portraits of the things that sustain us and bring beauty to our lives, are also inspired by vintage photographs and figures in history, literature and pop culture.
About the Artist
Diana Hartman is an artist who has worked in many mediums and loves finding unique surfaces to paint on. With a love of plants, animals and storytelling, she will anthropomorphize everything from plants to critters. She has painted on cupboard doors, repurposed wood, wood platters and even a dishwasher. It gives her great satisfaction to take what would be discarded and turn it into art. In the Bay Area, Diana has created public art work, which has included several works for Art Box Project San Jose. She is currently a member of Kaleid Art Gallery and has also shown her work at different venues in Santa Cruz and San Francisco. Diana also works on commissions which could entail a portrait of your favorite plant, flower, vegetable or pet.
---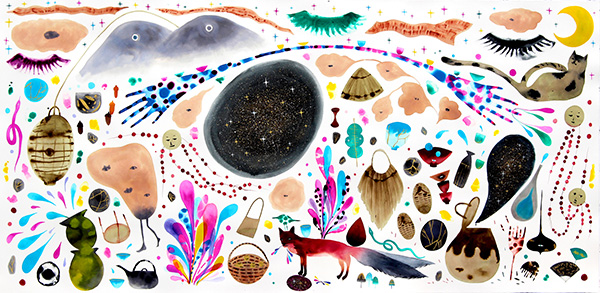 The ICA San José is excited to announce our next Facade Project, Masako Miki: Night Parade of One Hundred Demons. The Facade Project will present a new commission that is part of Masako Miki's most recent work, Shapeshifters. This series references the artist's ancestral traditions of Shinto animism, utilizing yōkai (shapeshifters) characters from Japanese mythologies and folklore as a potent metaphor to explore the complexities of identity today. The simple translation of yōkai is ghosts, deities, or preternatural creatures and appears in various forms like humans, animals, natural objects, and ICA San José Masako Miki: Night Parade of One Hundred Demons man-made objects. Some are humorous and bizarre, and others are more menacing. The most powerful attribute of shapeshifters is that they embrace dualities and flourish because of their idiosyncrasies.
Since 2015, Miki has been exploring the story of the Night Parade of One Hundred Demons or Hyakki Yaghō, which refers to a parade of thousands of yōkai. This popular theme in traditional Japanese storytelling and art is sometimes depicted as an orderly procession and others as a chaotic riot. For the artist, this parade is an essential and fertile vehicle to develop the next chapter of Shapeshifters. The ICA San José is very excited to have the opportunity to commission this new work and introduce augmented reality (AR) as a way for Miki to realize her Night Parade of One Hundred Demons. By employing AR, the artist's static 2D and 3D characters will become animated and enhance the potency of time-based storytelling to enhance her work experience, accessible 24/7.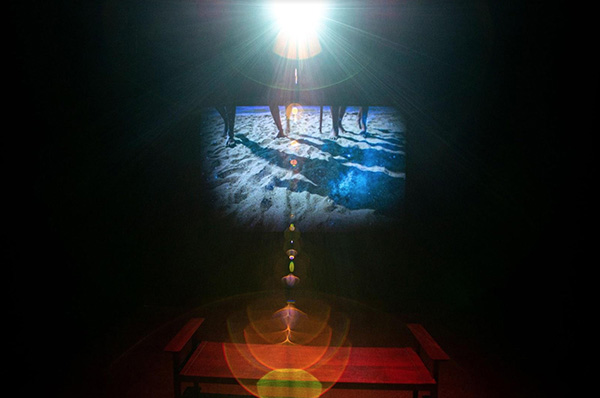 Our 2022 fall season at your SJICA debuts local luminary Mildred Howard's film installation "The Time and Space of Now," with three large sculptural pieces; along with an important loan of works on paper from the Jordan D. Schnitzer Collection. Known for her collage-based work and evocative large-scale pieces, this first Bay Area display of her recent film piece will be in the Cardinale Project Room.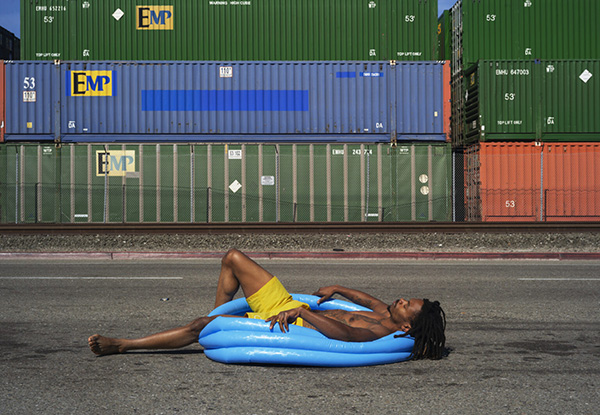 In the SJICA's David Pace Gallery, we will host Adrian Burrell's first solo exhibition entitled "Sugarcane and Lightning pt 3,," featuring mixed-media installations, photographs, and a brand new film, as well.
---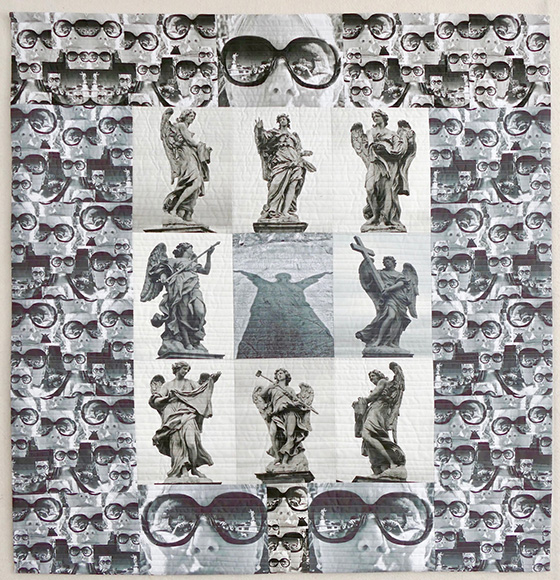 Quilt National '21 Juried Exhibition
Quilt National '21 is a juried biennial exhibition featuring the Best of Contemporary Quilts. Organized by The Dairy Barn Arts Center in Athens, Ohio, Quilt National showcases new works, all made within the previous two years from the show's opening, selected by the jury of Nancy Bavor, Brigette Kopp, and Karen Schulz. Quilt National offers the works of artists who take technology and techniques for fiber art above and beyond the ordinary.

Live performance 7:15pm: "Lady Fingers" classical guitar duo
---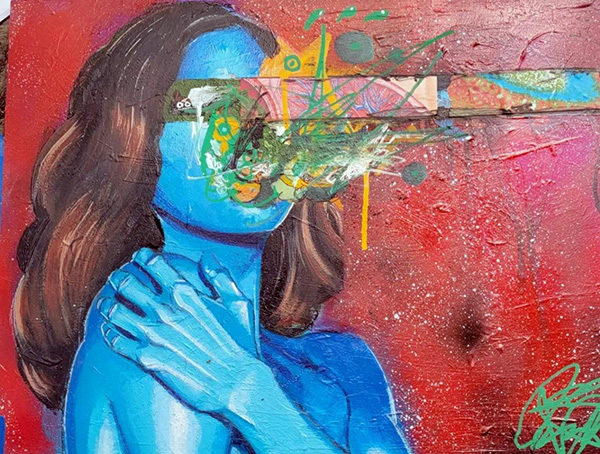 Richard Hoffman was born in San Jose, and raised in Sunnyvale. Mesmerized by Madonna, Optimus Prime, and anything having to do with space, he dove deep into all things beautiful and otherworldly. Voraciously consuming comic books, and fine art books and magazines, and burning through sketchbooks, his mother and aunt encouraged him to pursue his favorite interest – art. He honed his skills in anatomy, figure drawing, and painting at the Academy of Art University in San Francisco, before moving to San Jose, and exhibiting and selling his first pieces in the DTSJ art community.
---
Symphony San José at California Theater – 345 S. First St. map
Open Rehearsal: "Mighty Cello"
The California Theatre and Symphony San Jose welcome you to its free open rehearsal of Might Cello, featuring multi-GRAMMY award-winning conductor JoAnn Falletta and cellist Julian Schwartz. Dive into the holiday season with the California Theatre's festive Christmas decorations and carol singers. Doors open at 7PM. Rehearsal runs from 7:30pm to 10pm. Guests may stay as long as they wish.
The rehearsal is in preparation for the Symphony's Might Cello program, performed at the California Theatre on Saturday, December 3 at 8 PM and Sunday, December 4 at 2:30 PM. Program includes Turina's infectious Danzas, filled with Spanish rhythms and color, and Dvořák masterful, melody-rich Symphony No. 7. Cellist Julian Schwarz, already near-legendary in his early 30s, marks his second appearance in San Jose with the luscious crowd-favorite, Lalo Cello Concerto..
---
FOUNTAIN ALLEY AREA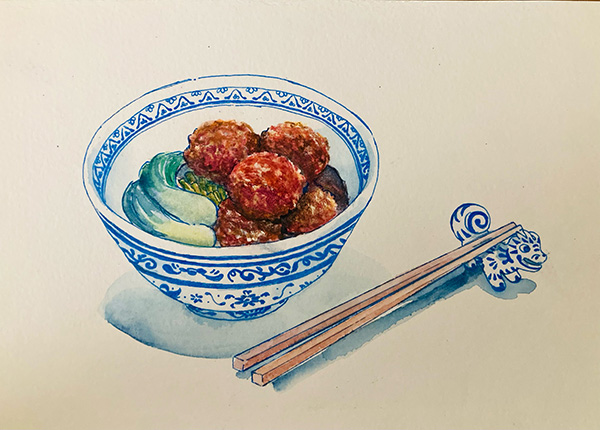 Xanh: Are you feeling Blue?
Xanh is a community art exhibition highlighting and celebrating the diversity of local artists. An Art Selection Panel selected artworks on view in this exhibit.
In the United States, we think of sadness when we think of blue. However, the color blue evokes different feelings in other parts of the world and cultures. For example, in Austria, it is a happy-go-lucky color. In Chinese culture, blue represents growth and optimism. In Korea, the color of mourning is "blue," yet the word blue does not exist in the Korean language. Calmness and hope are how the Vietnamese feel about the color blue or Xanh Dương. Xanh Dương (blue, like the ocean) is used to describe blue as there is not a single word in the Vietnamese language to represent blue. We wonder how blue feels for those who are sightless or color-blind.
Featured Artists: Tovah Cheng, Coby Chuang, Steve Clark, Jemal Diamond, Cynthia Gonzalez, León Hernandez, Hang Huynh Andrew Kong Knight, Irene Berrones Kolb, Sabrina Kwong, Elizabeth Jiménez Montelongo, Andy Ngo, Andy Nguyen, Ngoc Nguyen, Vy Nguyen, Ouater Sand, Lani Viet, Fe Villanueva, and Charlotte Zhang
Also featuring:
Dr. Jerry Hiura Asian Art Fellows 2022: Anh Le and Elaine Li
Commissioned Music by Troy Truong (Onbar)
Film by Danny Kim and Soo Yeon Lyuhm
And performances by:
7:00pm Viet Steps, Dancers
7:30pm Erin Pangilinan, Spoken Word Poet
7:35pm Saraswathy Lakshmivaraham, Mohiniyattom Dance
8:00pm Thi Cầm, Flutist
---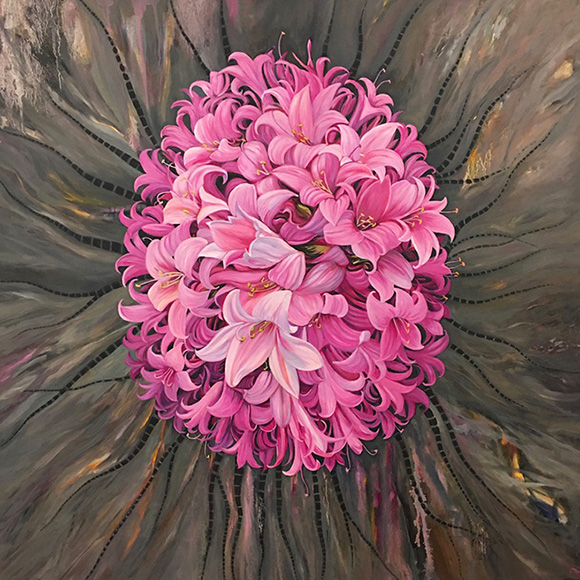 Opening reception: Resilience(d)
The first exhibition at the new Works now located at 38 South Second Street!
Resilience(d) is an exhibition about adversity and the persistence, survival, and perseverance in the face of difficulties, misfortune, hardship, and oppression. The disparate collection of art objects in the exhibition, including works from sculpture to oil painting, from figurative to abstract, covers an intersection of personal and political resilience including topics such as: cyclical ecological perseverance, gender based violence, politically motivated violence, feminist politics, disability, mental health, international conflicts, war, and the persistence of family, all beautifully represented in a collective storytelling of liberation from suffering, healing, and overcoming hardship. Artists: Jhina Alvarado, Thai Bui, Marie Cameron, Sara Cole, Theresa Giammattei, Yolanda Guerra, Irene Berrones Kolb, Victoria May, and Natasha Tahaei.
---
MARTHA GARDENS District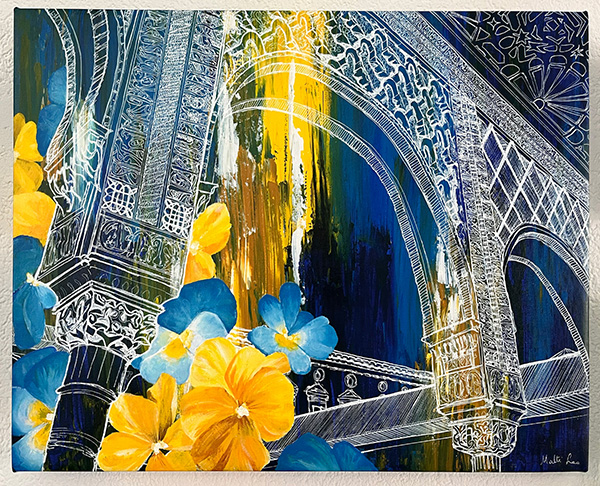 "More the Merrier"
Our Holiday art sale and exhibition. Join us for some excellent art and live music by DJ Hen Boogie.! Come buy gifts for yourself and friends.
Participating Artists: Rosa Bar, Kimberly Cook, Carolina Cuevas, Miguel Espinosa, Peter Foley, John Gayler, Eileen Graham, Caden Hastings-Dennis, Jaben Hastings-Melville, HDR Photography, Ansate Jones, Lori Krein, Janice Lambert, Malti B Lee, Hargun Mahal, Emilia Melville, Kris Miller, Jackson Nichols, Gianfranco Paolozzi, Francisco Ramirez, Lynn Rogers, Eunice Schreck, Bhawna Seth, Olga Enciso Smith, Renée Switkes, Mike Tillson, Rachel Tirosh, Nina Ulett, Miranda Vaughn, Marvin Velasco, Isaac Villanueva, Jennifer Villanueva, Mirabella Villanueva, Alpa Vyas, Yuting Wang, Nona Weiner
---
FUSE presents at the Citadel Art Gallery- 199 Martha St. map
Opening reception: The Gathering by DDEF
Featuring art by Sylvia De La Garza, Miguel Machuca, Lucia M., Avery Palmer and Francisco Ramirez.
---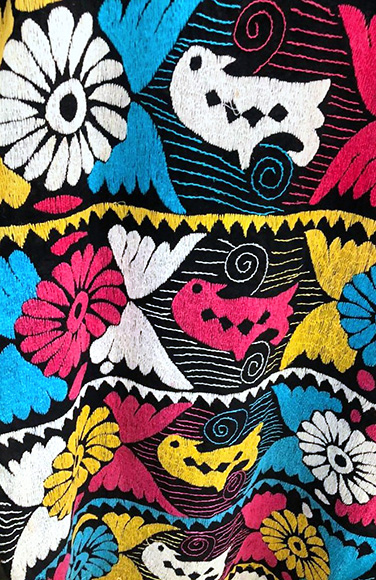 Traditional Zinacantán embroidery from Chiapas, Mexico
Artisan and embroiderer from women of Zinacantán, in addition to the festivities the stitches tend to "talk" about what happens in everyday life. The variety of Mexican embroideries is immense, as are their uses and their colorful symbols.
Zinacantán, a community of embroiderers is located in the state of Chiapas. The municipality of Zinacantán is the home of the Tsotsil people, who besides growing flowers, is known by the style of fine embroidery that women make.
---
---
South FIRST FRIDAYS
366 S 1st Street
San Jose, CA  95113
408-271-5155
info@southfirstfridays.com
---