Join us in kicking off our 17th year of South First Fridays ArtWalk SJ on February 3rd in SoFA District and beyond! Come be a part of our unique community as we celebrate another year of artistic expression and immerse yourself in the vibrant atmosphere of San Jose's arts & culture scene.
The South FIRST FRIDAYS ArtWalk is a self-guided, nighttime tour through galleries, museums, and independent creative businesses from 5–9pm.
All ArtWalk venues are free admission and family friendly.
---
SoFA District
ANNO DOMINI // the second coming of Art & Design – 366 S. First St. map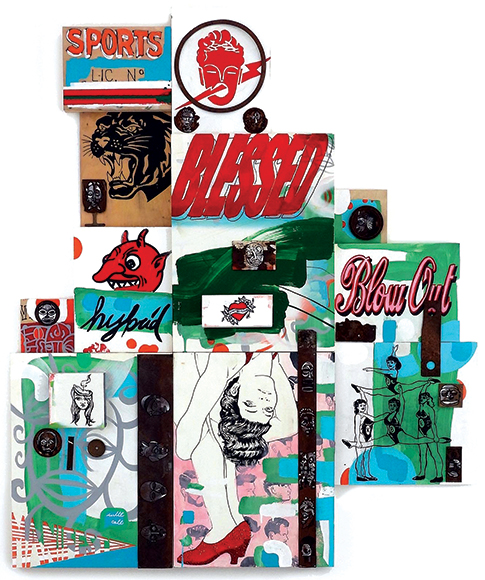 Artist's reception: "MASCOT" Navin Norling (GA) solo exhibition"I create work that is made from remnants of lives once lived and the people who have gone me."
In his ongoing practice, Navin June Norling (b. 1970) examines classic Americana imagery and assembles miscellanea out of popular culture signifiers, sayings, folklore, and materialism.
During his upbringing, Norling would spend summers on his grandfather's farm in California's Central Valley, where all resources were reused without any waste. The impact of that rural setting led him to embrace salvaged components and eventually integrate assemblage and bricolage techniques into his formal training as a painter. But apart from those summers, Norling grew up in suburban California and spent his youth in wild exploration across the Bay Area; part of a generation committed to establishing a personal aesthetic framework, whether in the use of graffiti monikers or wheat paste messaging. He has been vicariously loyal to that urban grit and has maintained a street palette in his work.
The use of found objects and urban detritus plays a large part in his continued investigation of a dynamic American cultural landscape and its sociopolitical nuances. Cast-off wood frequently makes an appearance in the artist's work, like the window panes in Good to the Last Drop (2005) presented at Sculpture Center in New York and in Black Cats (2003), held in the contemporary art collection of the Brooklyn Museum.
In 1995, he received a BFA in illustration from the California College of the Arts. It was here that he first encountered Raymond Saunders, who studied the collage process further reaffirmed his commitment to the found object. He later moved to New York in the early 1990s and received an MFA in fine arts from Hunter College in 2002. This shifting inhabitance across rural, suburban, and urban landscapes continues to shape his long-running survey of the country. More than that, the changes in scenery helped him develop a cheeky lexicon in addressing national issues of power, class, geography, capitalism, and inequality – a sense of humor accessible to varying demographic groups, each with their unique set of sensibilities.
His body of work encompasses paintings, sculptural objects, and installations. melanges of cacophonous iconographies developed from urban graffiti and pop imagery. In his recent work and as an extension of his exploration of bricolage, the artist has been employing a stacking technique to unite disparate, totemic fragments – modular and self-contained – that, when put together, plot out an ambitious, cohesive genealogy of collective Americana chronicles.
Norling lives and works in Atlanta, GA. He is currently a professor of foundation studies at the Savannah College of Art and Design.
MASCOT is Norling's second solo exhibit at Anno Domini.
---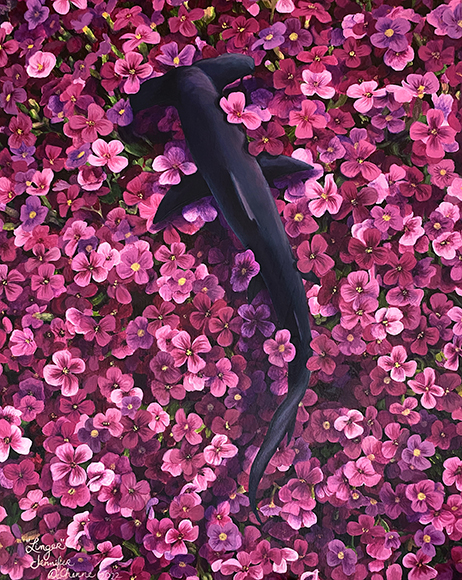 Artist's reception: Being. Jennifer DeChenne solo exhibition

I often find myself struggling with anxiety, which manifests itself in excessive thought and worry. I have found respite from these thoughts through day-dreaming, imaging beautiful, calm places where I would rather be. In order to create these paintings, I have tried to focus on the feeling that is evoked when I enter my dream space, and to allow that to guide me to the images in these pieces.
People often ask me if my paintings represent anything, whether the themes, symbols and shapes are representative of some sort of hidden message that I am trying to communicate. The answer to that question is that these paintings do not represent anything other than themselves and the feeling that they draw from the viewer. The feeling of the breeze on your face or the sound of a waterfall does not need any form of external meaning to evoke feelings of joy, the beauty lies in the experience itself. In the same way I hope that the simple beauty that I strive to depict can create a similar experience in you as a viewer as it does in me as a painter.
About the Artist:
Jennifer DeChenne is a visual Artist from San Jose, with a fascination for the surreal. For Jennifer, the process of creating is an opportunity to delve into a wild world of ideas, while mentally working through things both good and bad. While Jennifer doesn't meditate in the traditional sense, she finds that painting allows her to calm the mind and tune in to the present experience. Jennifer has been teaching Art for eleven years now, and loves helping students gain confidence through finding their Artistic voices.
---
MACLA Movimiento de Arte y Cultura Latino Americana – 510 S. First St. map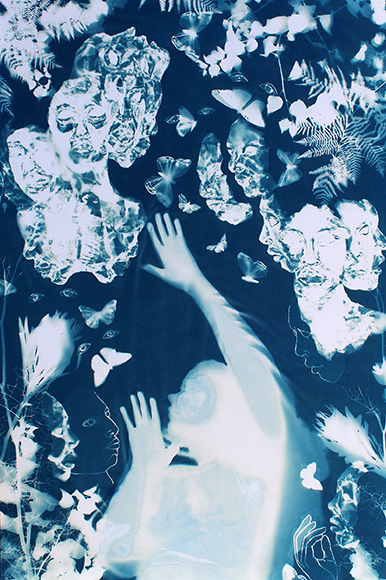 Pertenecer: To Belong group exhibition
Participating Artists: Pilar Agüero-Esparza, Rayos Magos, Kristina Micotti, Hector Muñoz-Guzmán, Vanessa Wallace-Gonzales, Jennifer White-Johnson

This exhibition investigates the intercultural identities of Latino artists across the Bay Area and beyond. Through varying mediums, each artist shares glimpses into their experiences of feeling othered across different spaces and social conditions within today's culture. The spectrum of encounters have empowered each artist to lean further and deeper into their Latinidad, their work highlighting traditional techniques and iconography, indigenous homage, and references to every day life. By embracing their otherness, the artist can take control of their narrative and create their own space of pertenencia. This exhibition will feature the works of Pilar Agüero-Esparza, Rayos Magos, Kristina Micotti, Hector Muñoz-Guzmán, Vanessa Wallace-Gonzales, and Jennifer White-Johnson.
---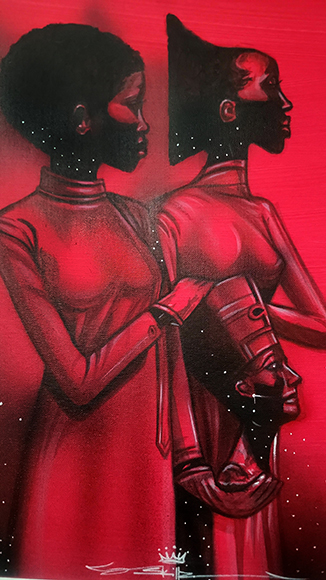 Hollywood by Fuquan Divine
My interpretation of actors and singers in private thought
---
Opera San José at California Theater – 345 S. First St. map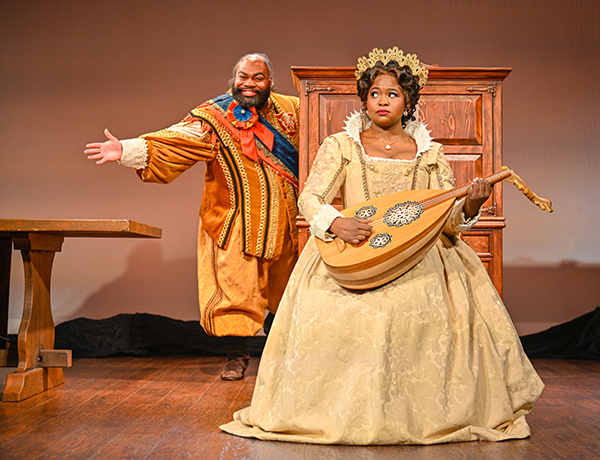 Join Opera San José as we celebrate our production of Verdi's Falstaff, a comedic opera about the illusions we all have about ourselves and the fools they can make of us.
We are opening the doors of the California Theatre for an evening filled with music, a sneak peek of rehearsal, and other special activities! Featuring artists from the production and the lobby Wurlitzer organ, performances will occur at 5:45, 6:45, and 7:45 pm during ArtWalk SJ.
---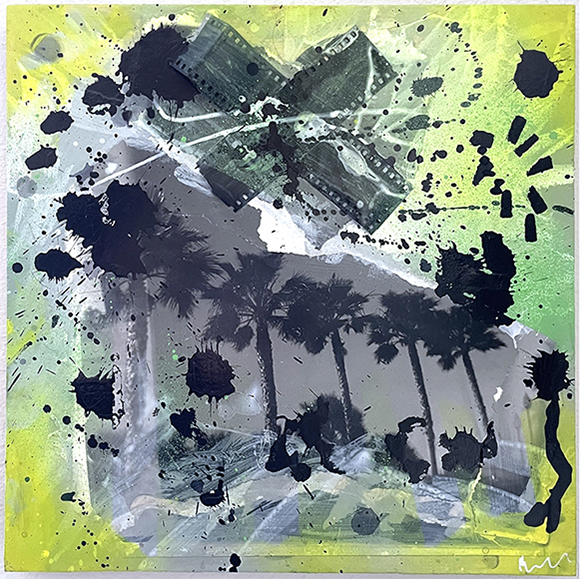 Artist's reception: Stream of Consciousness Robert Delare Chavez III solo exhibition
The creation of streams of ideas flowing in my brain when I focus on this work. I specifically chose to work using an inexpensive Holga camera on this project because of its versatility and the dream-like captures I can create with it. I use mixed media to intensify or emphasize my experimental exploration of this photographic project, hence a stream of ideas. Shadows, light, and structure continually clashing with life, color, and environment. My own chaos mixed with what is around me. Enjoy the experience.
About the Artist:
Chavez has been taking photographs all of his life, and recently earned his BA in fine art photography. He enjoys landscape photography, street art, and showing the beauty in the grittier side of life. He's been working on this project for many years, using a $35 Holga camera to show life from his perspective.
His work has been featured in many different venues around the Bay Area, including San Francisco, the East Bay, and San Jose. Most recently, his work has been shown at the Mexican Heritage Plaza Afterlife show and at the 1Culture Camera Shy exhibition. In May 2022 Chavez received the SJCC ASG President Award for photography.He is currently a teaching assistant under Terri Garland at San Jose City College.
---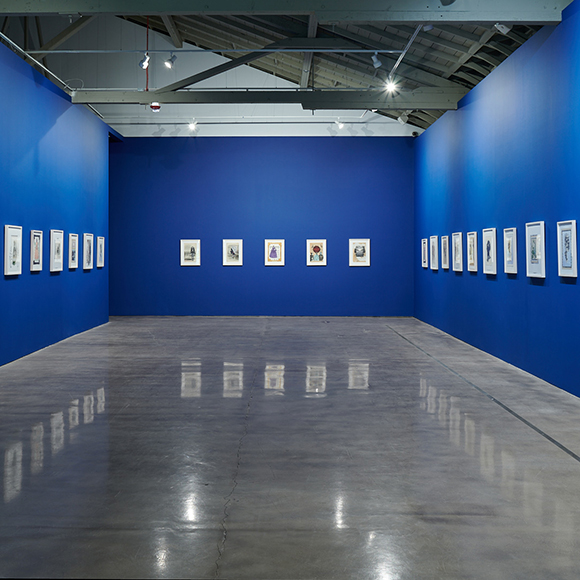 Mildred Howard's The Time and Space of Now
The ICA San Joséis thrilled to be showcasing the life and work of Bay Area luminary artist Mildred Howard. Centered around the first-ever Bay Area presentation of Mildred Howard's film The Time and Space of Now (2021) in the ICA's Cardinale Project Room, the solo exhibition features three multi-media installation pieces exploring the triangulation between time, space, and the migration and movement of people. In addition, the ICA is pleased to present thirty works on paper being loaned generously by the Jordan Schnitzer Family Foundation, expanding on the multi-media work featured in the exhibition.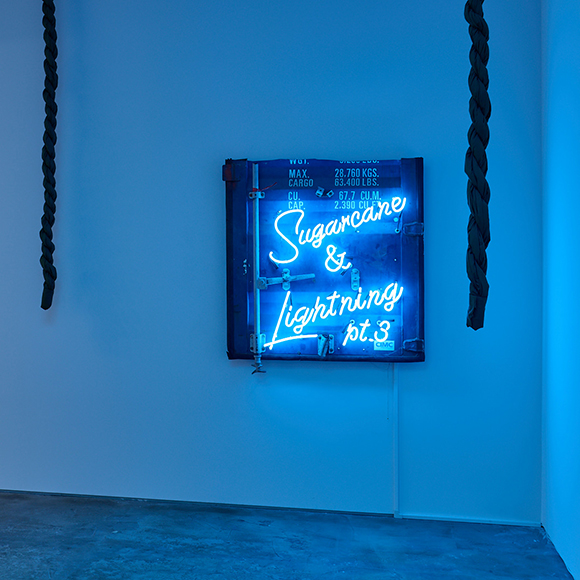 Adrian Burrell's Sugarcane and Lightning pt. 3
The ICA San José is pleased to present the first-ever solo exhibition of Adrian Burrell. The exhibition Sugarcane and Lightning pt 3 features mixed-media installations, photographs, and a film by Burrell that foreground the importance of place, memory, and ritual. This multi-textured installation acts as a mixtape of Black life and American history that employs the speculative nature of memory to sidestep empirical evidence and shake the foundation of the American dream.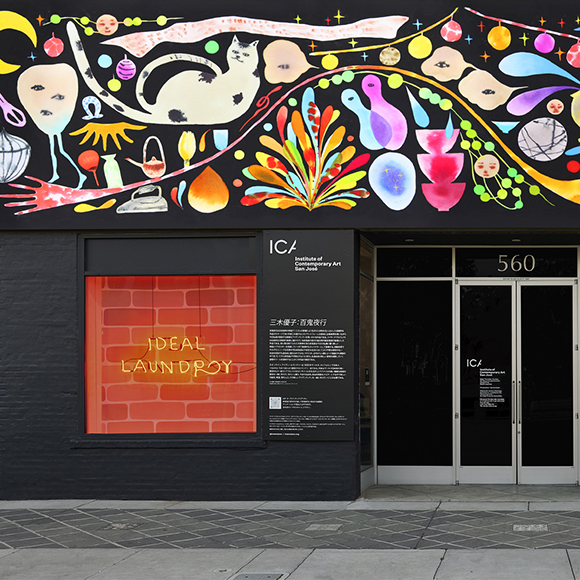 Masako Miki: Night Parade of One Hundred Demons
The ICA San José is excited to announce our Facade Project, Masako Miki: Night Parade of One Hundred Demons. The Facade Project presents a new commission that is part of Masako Miki's most recent work, Shapeshifters. This series references the artist's ancestral traditions of Shinto animism, utilizing yōkai (shapeshifters) characters from Japanese mythologies and folklore as a potent metaphor to explore the complexities of identity today. The simple translation of yōkai is ghosts, deities, or preternatural creatures and appears in various forms like humans, animals, natural objects, and man-made objects. Some are humorous and bizarre, and others are more menacing. The most powerful attribute of shapeshifters is that they embrace dualities and flourish because of their idiosyncrasies.
Layers: Defining Our Relationship with African American Hair
Join the Institute of Contemporary Art (ICA) San José on Friday, February 3rd at 5pm for a conversation with artists and poet: Tachiya Bryant, Stardust, and Venus Jones on the topic of hair for black history month. Each artist will discuss their relationship to hair, how they use it to express themselves, and how it becomes a form of resistance to the pressures Black women continue to face.
---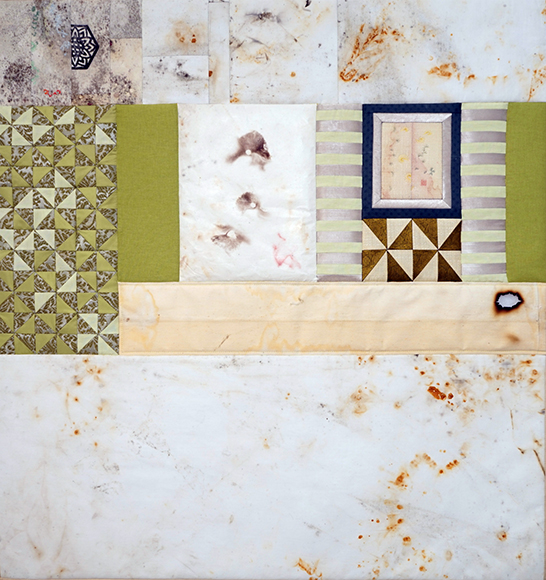 Quilt National '21
SJMQT will have 11 new works on display from Quilt National '21 during First Friday ArtWalk SJ. Stop by the museum and be one of the first to see these new quilts!
Quilt National '21 is a juried biennial exhibition featuring the Best of Contemporary Quilts. Organized by The Dairy Barn Arts Center in Athens, Ohio, Quilt National showcases new works, all made within the previous two years from the show's opening, selected by the jury of Nancy Bavor, Brigette Kopp, and Karen Schulz. Quilt National offers the works of artists who take technology and techniques for fiber art above and beyond the ordinary.
---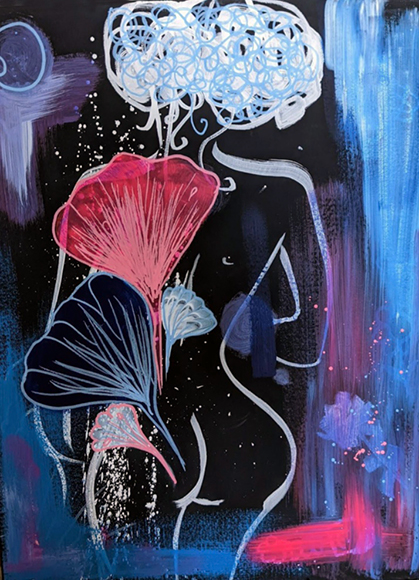 Moonlight by Diana Avila
Inspired by clouds, animals, space, and nature, Diana Avila was born in Mexico but grew up in San Jose. Her first love was photography, as she remembers going to art walks as a kid in San Jose and seeing all the wonderful local artists and their work. She practices different kinds of art (candle making, poetry, sketching) but is slightly obsessed with painting on black canvases. A fan of moody feelings, she loves how the colors pop off—not unlike the diversity of San Jose in which she thrives.
---
Fountain Alley Area
1Culture – 136 E. Santa Clara St. map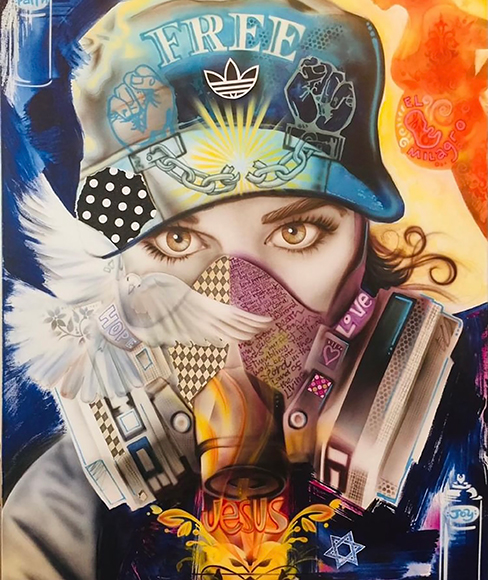 Featuring: ARTIST 1, SPIE, CCTV, GATS, MESNGR, NEXUS, CEAVER, WISPER, FWORD, ZEST ONE, SHEN SHEN 210, QUAKE, KING 157, SNO, BIZARE 68, ALADDIN, CRAYONE, FYERBOMB, MANOS, MINE TWB
The Bay Area Legends exhibit is made up of an indoor and outdoor art gallery. Twenty artist who have mastered aerosol as a medium have been invited to participate in an exposé that honors graffiti culture and its connection to the Bay Area—each will be showcasing artwork to be placed on our gallery walls and will be adding some color and style to the parking lot behind the gallery in a live painting demonstration.
Although some may consider it to be an unauthorized visual intervention, graffiti obtains the power to build relationships and facilitate dynamic dialogue between a diverse and often under-represented group of communities to help increase their input and impact on public decisions that involve art and urban development. With this project, we aim to capture and document some of the unique San Jose history and energy and encourage people to explore, appreciate, and positively engage with the spaces around them.
This being a font-based art form, graffiti uses fame-seeking strategies and combines them with mass communication, allowing writers to show more styles to more regions; a network of communication, and a new territorialization of the city by means of colors, letters, and style. With the internet now being a prominent influence, the scene is in constant flux. These legends remind us of the ephemeral quality of graffiti, as time passes, their voice and history stay embedded in the generations to come.
---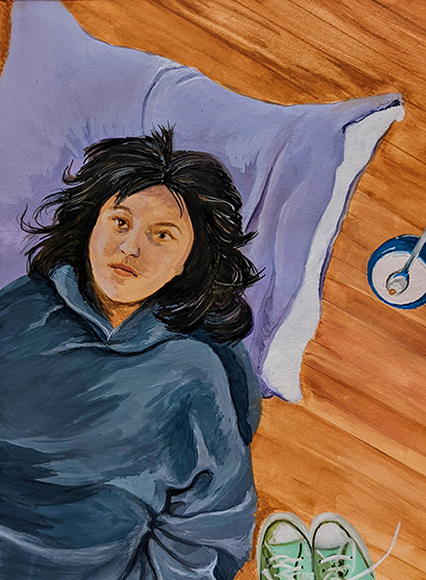 Xanh: Are you feeling Blue?
Xanh is a community art exhibition highlighting and celebrating the diversity of local artists. An Art Selection Panel selected artworks on view in this exhibit.
In the United States, we think of sadness when we think of blue. However, the color blue evokes different feelings in other parts of the world and cultures. For example, in Austria, it is a happy-go-lucky color. In Chinese culture, blue represents growth and optimism. In Korea, the color of mourning is "blue," yet the word blue does not exist in the Korean language. Calmness and hope are how the Vietnamese feel about the color blue or Xanh Dương. Xanh Dương (blue, like the ocean) is used to describe blue as there is not a single word in the Vietnamese language to represent blue. We wonder how blue feels for those who are sightless or color-blind.
Featured Artists: Tovah Cheng, Coby Chuang, Steve Clark, Jemal Diamond, Cynthia Gonzalez, León Hernandez, Hang Huynh Andrew Kong Knight, Irene Berrones Kolb, Sabrina Kwong, Elizabeth Jiménez Montelongo, Andy Ngo, Andy Nguyen, Ngoc Nguyen, Vy Nguyen, Ouater Sand, Lani Viet, Fe Villanueva, and Charlotte Zhang
Also featuring:
Dr. Jerry Hiura Asian Art Fellows 2022: Anh Le and Elaine Li
Commissioned Music by Troy Truong (Onbar)
Film by Danny Kim and Soo Yeon Lyuhm
---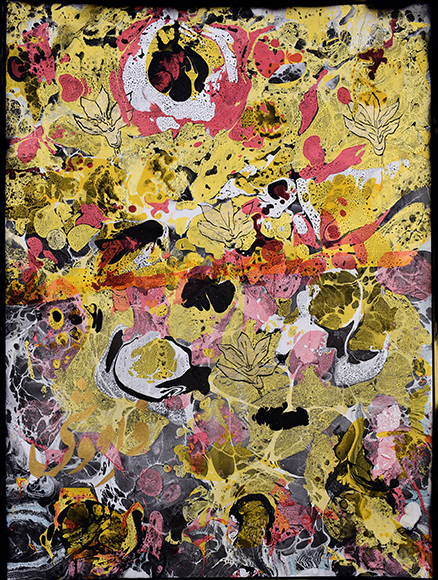 Community Art Auction!
After two years off, the "annual" Art Auction returns to Works! We celebrate our new and expanded community art and performance gallery with more than 100 works of art from the area's most collected artists to relative newcomers on the scene. See what's going on across the South Bay arts scene and start your collection by supporting Works and local artists! The exhibition continues on weekends to the auction night on March 4 at 5pm!
---
Martha Gardens District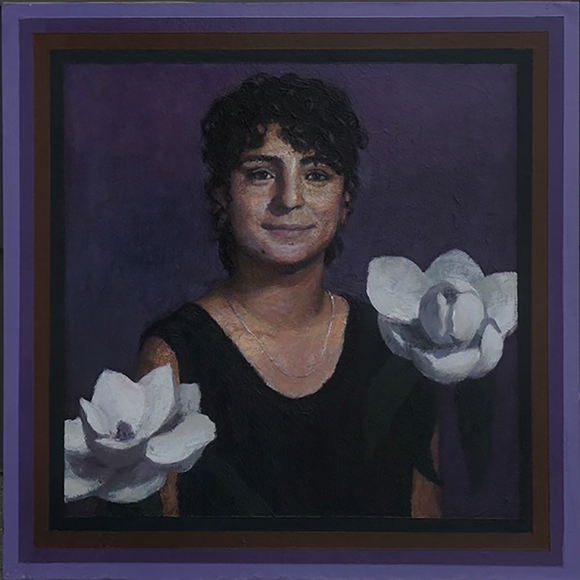 Portraits/Retratos by Miguel Espinosa
Miguel Espinosa has been hard at work leading free Community Workshops and providing free portraits for businesses and families in the gallery for the past month. His exhibition will include portraits he has painted as well as photographic portraits. His mission is to create quality portraits for anyone and everyone.
---
FUSE presents at the Citadel Art Gallery- 199 Martha St. map
Closed this evening.
---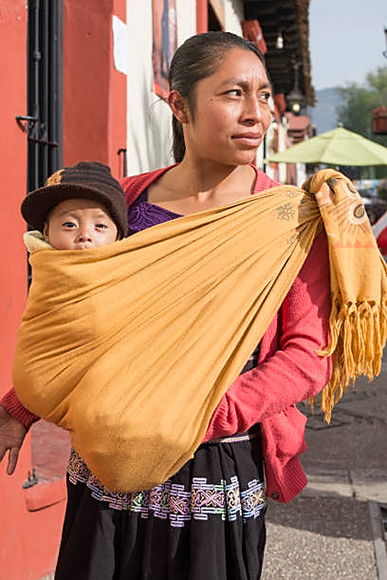 Mexican Rebozos / Rebozos Mexicanos
Rebozos are handwoven shawls made by indigenous women in various regions of Mexico.
They are weaved in backstrap looms using natural fabrics such as silk, cotton, and sheep's wool. Rebozos have many purposes as seen in evidence of Mesoamerican ancestral cultures. However, the shawls are mostly associated with giving women support during the birth process and help women carry their babies around. Most rebozos are made by Mayan women and Zapoteca women, and they handknot very fine, intricate fringes as the finishing touches. San Luis Potosi is another state in Mexico known for creating the famous and beautiful rebozos.
---
South FIRST FRIDAYS
366 S 1st Street
San Jose, CA 95113
408-271-5155
info@southfirstfridays.com
---