Summer's not over yet! Join us on First Friday September 1st from 5–10pm for amazing exhibitions in the gallery venues and 50+ STREET MRKT artists as they transform S. 1st St. in SoFA District into an outdoor urban arts faire.
All ArtWalk venues and STREET MRKT are free admission (spend it with the Artists!) and family friendly.
---
SoFA District
ANNO DOMINI // the second coming of Art & Design – 366 S. First St. map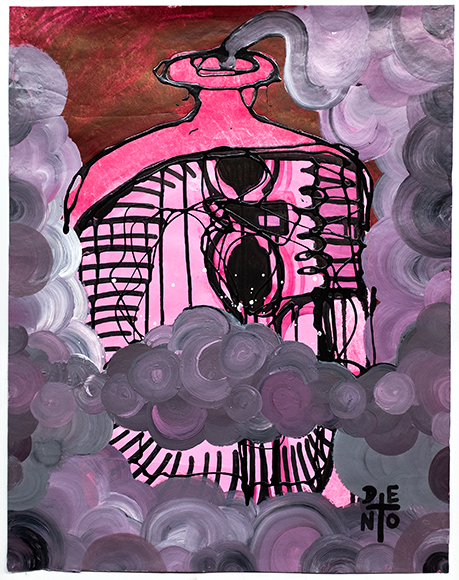 On view in galleryONE: Todos Tenemos una Calavera / We All Have a Skull
DENO (Madrid, Spain) solo exhibition
Pablo Vázquez, aka DENO (b. 1977), is an accomplished artist whose creative journey began in the lively graffiti scene of Madrid in 1989. Formerly a member of the renowned KR2 crew, Deno honed his skills and artistic expression through urban art, giving him a unique style that would serve him well as he transitioned into the tattoo arts after earning his degree in Philosophy from Universidad Autónoma de Madrid of Madrid 2002.
Deno has contributed his talents to some of the most prestigious tattoo studios in the world, including Ed Hardy's Tattoo City in San Francisco, Tattoo Paradise in Washington DC, and Seven Doors Tattoo in London.
Drawing and painting have been an essential part of Deno's life since childhood, and as he matured, his travels became a significant source of inspiration for his work as well. The profound questions about the fragility of life and the inevitability of death, as well as the diverse ways different cultures express these contemplations, intrigue and inspire the artist.
The skulls, animals, hands, and other ritual symbology present in this body of work constitute Deno's personal imagery language, developed from firsthand experiences of the various cultures he has observed. Deno finds that the particular works in Todos Tenemos una Calavera enjoy a freedom and spontaneity rarely experienced in tattooing.
The paintings and ceramic sculptures were created during his travels to Madrid, San Francisco, London, Oaxaca, and New York City, among others. This series represents the culmination of all his interests and experiences, weaving together the worlds of graffiti, the ancient art of tattooing, and deep philosophical contemplation into a mesmerizing body of work that defies a singular genre description.
DENO currently lives and works in Madrid, Spain and London, England.
Todos Tenemos una Calavera / We All Have a Skull at Anno Domini is DENO's debut solo exhibition in the United States.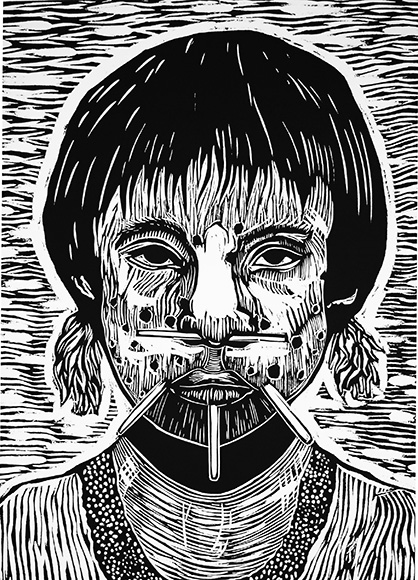 Artist's reception in galleryTWO: Our Ancestors are Calling Us Jhovany De Ala solo exhibition
When one creates, we do so in conversation with our ancestors. The heritage that we carry in our minds and bodies is reflected in our language and in art. We are shaped by what we have learned from history and from the voices of our grandmothers and grandfathers.
Our Ancestors Are Calling Us is a graphic display that highlights a part of our original culture. For the ancestors, the portraits, the animal world, and the universe of medicinal plants were part of a whole. The images that make up this exhibition honor that universe.
Through these images, I create a process between balance and spirituality. At the same time, I want to provide space to honor the beliefs and traditions that still thrive in our indigenous communities. These are represented as tributes in images that emerge from my imagination.
Our Ancestors Are Calling Us also issues an urgent call to rediscover the nature of which we are a part, urging us to care for it, respect it, and live well.
Nature lives in us; however, we often forget to live in harmony and respect with it. This oversight is a consequence of living in large cities surrounded by vehicles, skyscrapers, and submerged in gray skies. In such environments, time becomes of the essence, and the speed of life becomes absorbed by the demands of production and consumption. Consequently, we fail to make time to rediscover ourselves or to listen to others.
Our Ancestors Are Calling Us is a series of woodcut prints and mixed media paintings that reminds us of the power of ancestral connection and nature to guide us towards a more balanced and meaningful existence.
Jhovany De Ala (b. 1984), the visionary force behind Ocelote Press, is a self-taught artist originally from Oaxaca, Mexico. Oaxaca is well known for its artistic tradition in clay, textiles, paintings, printmaking, and–as Jhovany discovered at the age of 16–graffiti and street art. His years as a graffiti artist (which was considered highly rebellious and illegal at the time) greatly impacted his thinking on the possibilities of different forms of art, and his belief that art should remain free from gatekeepers, and it should consistently shift and grow to encompass all forms of expression, regardless of their origin.
Jhovany De Ala's images are inspired by Mexican folk art and dives deep into Mexico's history. He weaves in pre-colonial spirituality and harmony, while also reclaiming a legacy for his ancestors in the present day through his work. Creating from this space connects him to new dimensions and times which he represents through his wood cut prints and paintings.
In 2004 De Ala immigrated to San Francisco; always inspired by the legacy of artists and political movements, influencing the power of his work to build strong connections with each other as a collective. De Ala currently lives and works in Oakland, California.
---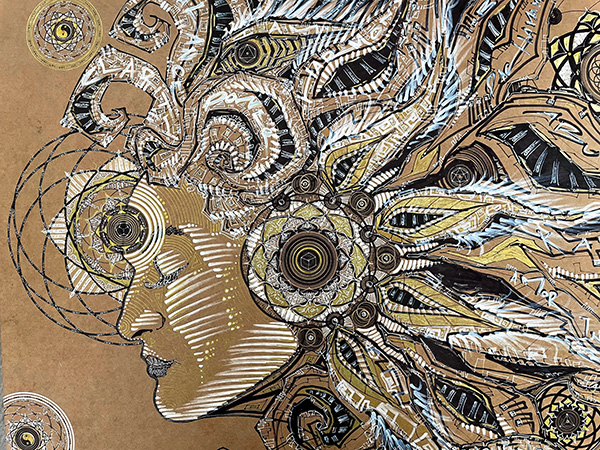 Artist's reception: Unification of The Collective Intuition Jonathan Perea solo exhibition
"I am compelled to create, I see faces everywhere and fractal holograms, and in my art there exists the programming of a new metaphor that promotes healing, balance and equilibrium. The holographic, energetic, eternal patterns in my art resonate in nature, and the source within each of us, freeing the soul to create its own path. I strive to conceive connections that bind our reality to one. Aho!"
We are more than our physical body. The old thinking of limitation and restriction has expired. Spirituality and science demonstrate profoundly that we are multidimensional, non-local, cosmically energetic, and deathless.
We all carry a potentiality that is infinite, self healing and mathematically fractal by design. Because we are slowly waking up to who we really are, anything is possible because we are in a dream.
Through epigenetics, psychoneuroimmunology, nature, and the collective human biome – as above, so below – we become aware and step into self-realization.
All belief systems are buffers. The truth is hidden in plain sight. Our breath is the key, and our attention is the lock. So, breathe to open your divine wisdom.
About the Artist:
Jonathan Perea is a professional artist working in the Bay Area since 2011. He has shown his work through exhibitions, and collaborations at galleries and museums such as KALEID Gallery, Triton Museum, Works Gallery, and Fuse Underground. He has been a featured artist at the Cinequest Film Festival, San Jose SubZERO Festival, Mexican Heritage Plaza, and Pacific Art League. Perea has also created several public art projects for the beautification of San Jose.
---
MACLA Movimiento de Arte y Cultura Latino Americana – 510 S. First St. map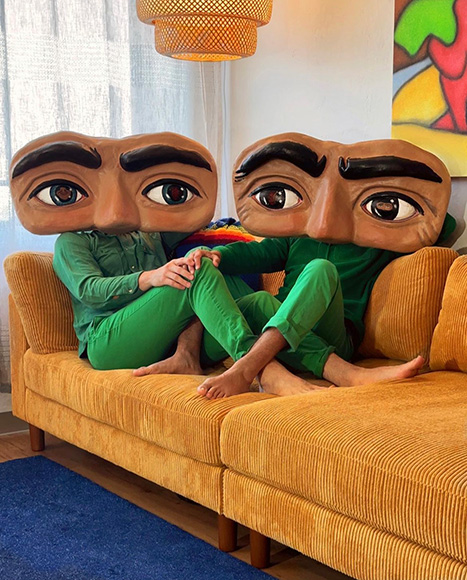 MACLA's Queer-ennial: A Story of Armor
A Story of Armor showcases resiliency as artists protect their mind, body, and spirit.
Featuring: Arely Cardenas, Houyee Chow-Jiménez, Ester Hernandez, Joel Hernandez, Devin Osorio, Fernando Reyes, and 20 other artists!
---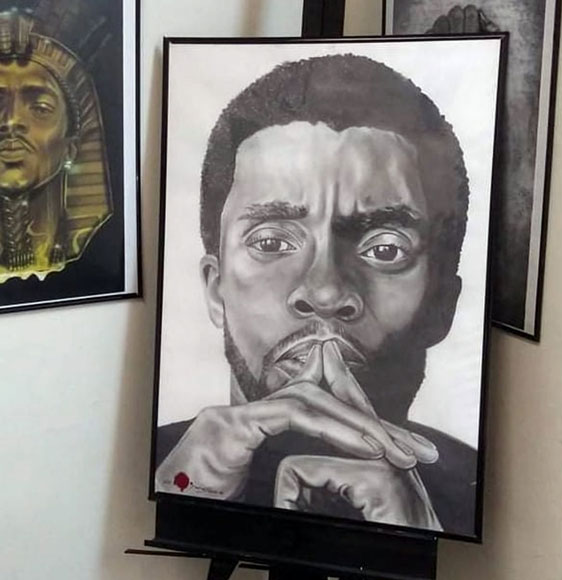 Hollywood by Fuquan Divine
My interpretation of actors and singers in private thought
---
Opera San José at California Theater – 345 S. First St. map
Romeo and Juliet
Join us as we celebrate our 40th anniversary season here at Opera San Jose with our first production of Romeo and Juliet. This Romantic love story is impassioned with French music, famous melodies and a timeless story that will inaugurate a new season.
We are opening the doors of the California Theatre for an evening filled with music, a sneak peek of the Romeo and Juliet rehearsal, and other special activities! Featuring dancers and artists from the production, the lobby Wurlitzer organ- Jerry Nagano and a string quartet. Performances will occur at 5:45, 6:30, 7:30 and 8:30 pm.
---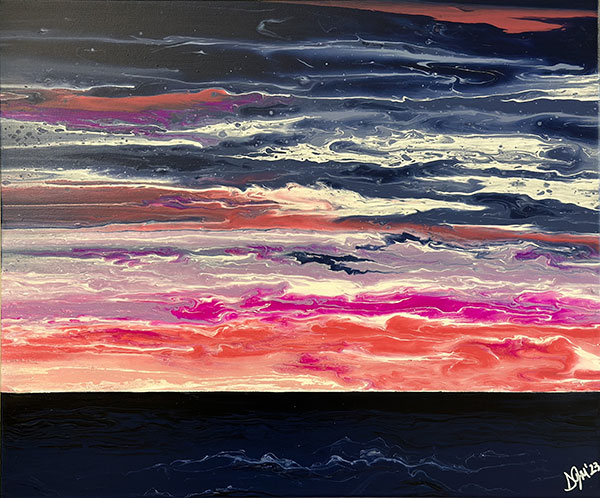 Pouring My World a series of fluid landscapes by Sandra Murphy
In a playful dance of colors and emotions, this Landscape Series unveils tales spun over the last several years, capturing both the tangible beauty of the world and the intangible realms of my imagination. These canvases are more than just depictions; they are heartbeats, resonating with tales of growth, exploration, and a yearning to paint the world in a hue that defies convention.
Allow yourself to be swept away by the symphony of abstraction peppered with notes of realism, urging you to challenge the ordinary and embrace the extraordinary. The subjects of these paintings? Not landscapes, not objects, but raw, unfiltered feelings. Whether sparked by a fleeting moment captured in a photograph or a lingering emotion from daily life, each stroke is a testament to my journey.
Take a moment to immerse yourself in this world where skies are not just blue; they may blush in shades of pink or gleam golden-yellow. The ebullient color schemes mirror my moods – some days bursting with joy, and on others, painted with the profound depth of dramatic oranges, purples, and reds, representing life's challenges and the undeniable beauty of every path we walk.
Each creation is a testament to a journey, not just of the hand but of the soul. And as you witness these pieces, know that they are borne of a technique uniquely my own –"layered controlled pour." Here, tradition melds seamlessly with innovation, every layer meticulously crafted to bring forth my vision.
Come, journey with me through these vibrant works.
---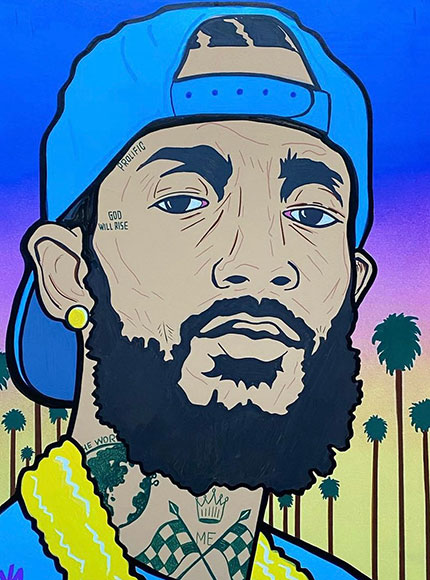 DAYDREAM by Akeemraheem
Funky, colorful graffiti-art angle on pop culture and good vibes.
---
---
Fountain Alley Area
---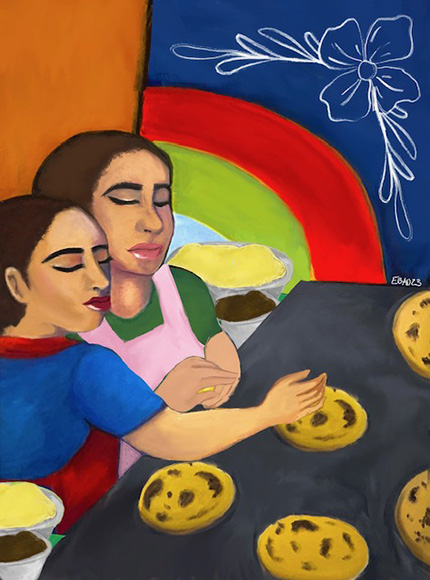 Ăn Chơi | Eat & Play
You are cordially invited to the Chopsticks Alley Art's "Ăn Chơi | Eat & Play" Exhibit Opening Reception.
Đi Ăn Chơi / Let's go eat and play — a Vietnamese phrase that encapsulates the audacious spirit of gastronomy and the pulsating undercurrents of leisure. Ăn Chơi brings together 23 artists representing the Bay Area's creative community to explore an eclectic blend of multicultural influences that portray the fun food scene. Embrace the spirit of eating well and playing hard.
Featuring artists: Hadi Aghaee, Melan Allen, Estefania Bautista, Yvonne Bellido, Buppydogs (Alicia Cardell), Vanessa Callanta, Julie Cardenas, DACBEET (Betty Nguyen), kaory (Kaory Santillan), Wednesday DeGuzman, Terry Kreiter, Saraswathy Lakshmivaraham , Josie Lepe, Angelo Lopez, Addi Miyako, Minhquang Nguyen, Mariel Paat, jumdropz (Pauline Phan), P.LOCZ, Kurt Salinas, Harumo Sato, Eileen Arts (Eileen Wong Cervera), Jax Yao
---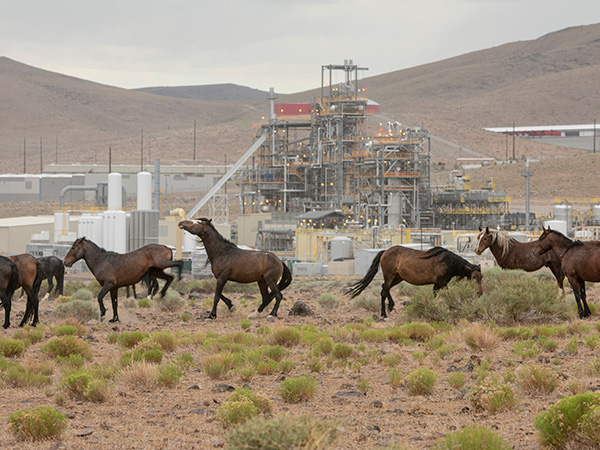 Expendition
This exhibition investigates the relationship between Nevada desert development and the Silicon Valley economy through views of the Tahoe-Reno Industrial Center (TRIC) in rural Storey County, Nevada, just over California's eastern border. Despite its storied history, the more recent inclusion in the Silicon Valley megaregion allows for the integration of high-tech industrialization. As we explore the expansive 107,000 acres of arid Great Basin, touted as the world's largest industrial park, we encounter concerns around governance and sustainable growth. TRIC prioritizes capitalist ideals of production over environmental and public concerns. The result is imposing and monumental architecture often catering to those with power and privilege.
Artists include Tracy Fish, guest curator Scott Hinton, and Kerry Rohrmeier.
---
Martha Gardens District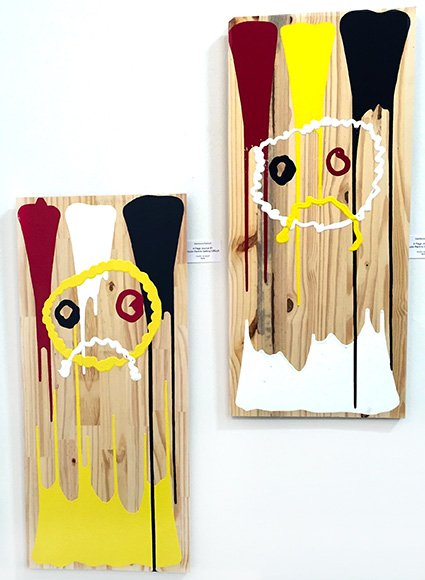 Artist's reception: Journals on Recycled Wood 1985-2023 Gianfranco Paolozzi solo exhibition
Marking on surfaces moment by moment, hour by hour, day by day, month by month, year by year…Creating a journal.
Live music by Gianfranco and Griff during the First Friday reception.
---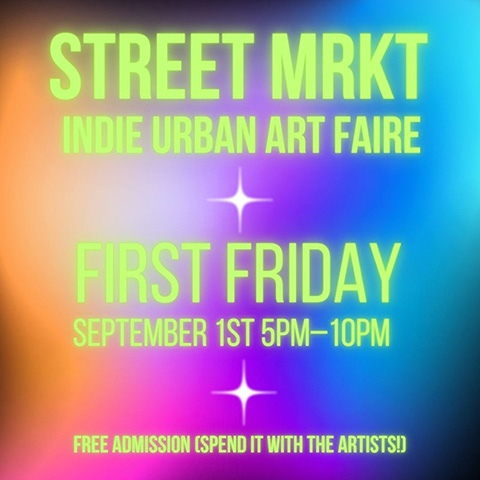 ---
South FIRST FRIDAYS presents:
STREET MRKT an indie urban art faire
5pm–10pm, free admission (spend it with the Artists!).
So. 1st St. between San Carlos & William streets
50+ talented artists gather together out on So. 1st St. transforming the SoFA District into a lively outdoor gallery for the evening. We'll have stunning paintings, unique sculptures, mesmerizing jewelry, chic fashion and even on the spot experiences like custom poems and the Deep Legends Bus with DJ Dirty Beats . Support our amazing artists and help our local art scene thrive!
PARTICIPATING ARTISTS
Soloman Acosta
Rebecca Anguian 
Bay Area Glass Institute  (BAGI)
The Blunt Letters
Bolo Vintage
Julianne Bonnet 
Budding Art Foundation
Bungalow Glow Candle Co.
Jarold Cadion Art 
Emmanuel Cervantes-Mejía + Michael Rogan 
Crossroads Trading Co.
Curious Shapes / Brian Corbin
Current Tattooing
Jennifer DeChenne
Lorenz Dumuk 
Eraeon Clothing
Faded Visualz 
Flow State Sound Healing & Arts 
Force129 & Betty Proper 
Luisa Garcia
Glass Scout Studio
Cynthia Gonzalez
Ali Hall 
Hand in Hand Henna 
Higher Fire Clay Space & Gallery
Chris Jalufka
Jodi408
KNS Beauty Essentials
La Madre Bruja 
Land and Sky Fine Art / Joe Mandrick
The Local Creative Show  by StageOne
Frankie McFly 
Julianne McKay
Judit Navratil
Roger O. Jr.
OaxaCali Studios
Tania Okay 
Jean -Luc Pedanou
Leslie Perez Jewelry
Purl Bailey (AKA Marilyn Roaf)
Francisco Ramirez
Random Marks- the Art of Doug Edwards
Art of Joseph Richardson 
Mason Roberts 
Rene Schilling Sears
South Bay Ceramics
Suha Suha
Sujata Tibrewala
VMGC Designs
Heylu Wheat
Live Music:
6:30pm & 8pm: Bloc de la Soul (S 1st St and San Salvador intersection)
5pm–10pm DJ Dirty Beats & the Deep Legends Bus
Flipside Lovers DJs in the beer garden, plus delicious food trucks!
BEER GARDEN & FOOD TRUCKS
On Tap…
Clandestine Brewing
Fox Tale Fermentation
plus…
3 Brothers Kitchen
3 Hermanos Mexican Grill
Akita Gourmet Sushi
Chickn Bros.
Lemongrass Lane
---
South FIRST FRIDAYS
366 S 1st Street
San Jose, CA 95113
408-271-5155
info@southfirstfridays.com
---
---
---
---