Join us for South First Fridays ArtWalk SJ on March 3rd in SoFA District & beyond! Come be a part of our unique community as you explore new exhibitions, meet artists in their natural habitat, and immerse yourself in the vibrant atmosphere of San Jose's arts & culture scene.
The South FIRST FRIDAYS ArtWalk is a self-guided, nighttime tour through galleries, museums, and independent creative businesses from 5–9pm.
All ArtWalk venues are free admission and family friendly.
---
SoFA District
ANNO DOMINI // the second coming of Art & Design – 366 S. First St. map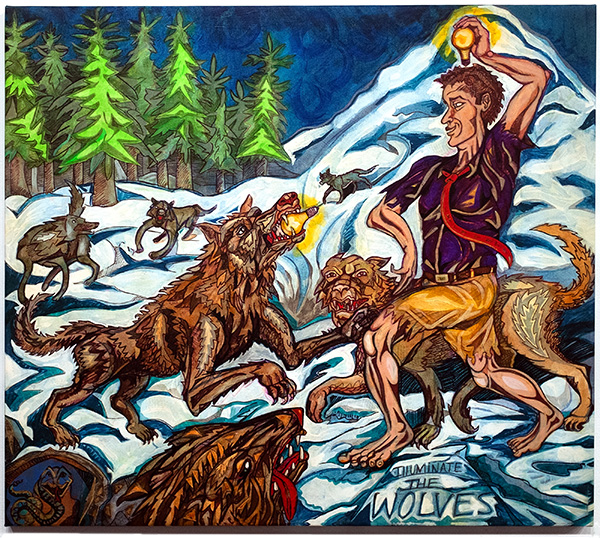 galleryTWO:
Opening reception: Illuminate the Wolves Zack Luchetti (1973–2021) tribute exhibition
Zack Luchetti was a master of wordplay and irony, his philosophical musings lent delight and play to works that ranged from comics to portraits, commercial art to folkloric dreamscapes, musings on nature, journeys with his best amigos, to mythological references and always, to his Christian faith. This show came to life because of his sad and unexpected death to cancer, leaving a legacy of thought and image as vivid as his presence.
Zack grew up in Oakland, CA, one of three brothers. As oldest and soon to become the tallest (6'4") he assumed creative leadership of the trio, as well as of the neighborhood gang of friends. Everything flowed from his imagination—early stories (he wrote his first book at age 9) films, plays. A voracious reader, he absorbed folklore and myth, tracking Bigfoot and the Yeti through references and his own drawings. A dreamer, he and his classmates threw message bottles into the California current to see how far they would go. Most were swept ashore within weeks, but two years later, Zack's ended up in the Canary Islands. His teacher's comment: "If anyone's bottle could cross two oceans, it would be Zack's."
Always sketching, he began painting at home on the back of his bedroom door. Then scenes on the walls, Finally, a 10ft. by 20-ft. mural of a huge, hairy mammoth on the dining room wall, which still remains, the first of many murals he would create. He had early exposure to art – his father painted, his mother wrote books, photographed and painted, and his grandmother was a painter. Once a year they created "The Art House" out of the family home, where 15 or so artists would show their work, with food and live music.
Travel drew him to Alaska, Peru, Nepal, Mexico, Vietnam, Ireland and Greece. He sketched constantly, preferring life drawing to using photographs. In every country, he could be found surrounded by locals—often children—watching him at work.
His brother remembers him walking 20-ft ahead of the meter maid on College Avenue with a roll of dimes, putting money in the meters about to be ticketed. Zack had a kind, loving heart. He wrote about his quest for a "clean, sane heart."
His influences were many. He credits Barron Storey of San Jose State with showing him image making, and introducing him to the work of Max Ernst, by which he learned how figures could interconnect. He studied with Glenn Hirsch and Leroy Parker, and more. He developed his drawing skills, learned to collage different xerox drawings into compositions, studied computer programs, painted murals, but always returned to life drawing. As a teacher, he took one position teaching ceramics, which he had only a few weeks to learn. He always accepted a challenge, including the martial arts studies of Tai Chi, Xing Y, Shaolin Kung Fu and Chi Gong. He often created with his brother JJ, with his friends Sonny and Django, and with brother Micah.
His art muses included Frank Fazzetta, Moebus, Dore, Posada, Escher, the Brothers Hilldebrand, Frank Miller, Hap Kliban, Archimboldo, Thiebaud, Caravaggio, Bernini, Leonardo, Fra Angelico, NC Wyeth, Pyle, Gaudi, Dali, Magritte, Winslow Homer, Hieronymous Bosh and R.C. Crumb. He also studied stoic philosophy, Epictetus and Marcus Aurelius. He read C.S. Lewis, Irish mythology, Meister Eckhart and William Blake. He read and studied Jung, charting dreams that he would turn into images. Always drawn to books, he began creating his own in the form of zines, called his "dreamic books." He published 20 of them, each featuring a segment of Zack's own adventures. He was the lead character, the "Young Hero" who followed an endless road that stretched across California, connecting to all the places of childhood and youthful memory.
"I am grateful to have grown up in a time where reading and art could come together with the stillness that allows imagination to develop."
Luchetti accomplished a diverse portfolio of drawings, paintings, commissioned murals and illustrations for print publications. His illustrations have been featured in the Seymour Pioneer Museum, published in Conquer Magazine, and on the back cover of Urban View magazine. His mural work was featured in prominent locations such as the SF Public Library main branch, Alameda Naval Air Museum, California State University and the Mercedes Edwards Theater.
His personal work has been exhibited in a variety of alternative spaces, galleries and museums including the SOMARTS Cultural Center, Southern Exposure Gallery, SF Museum of Modern Art, Museum of Children's Art Oakland, Fresno Museum of Art and in The White House, Washington D.C.
Luchetti received his BS in Graphic Arts and Illustration from San Jose State University in 1998 and later went on to earn his MA in Teaching Credential in Art from California State University, Hayward, CA.
galleryONE:
"MASCOT" Navin Norling (GA) solo exhibition"

I create work that is made from remnants of lives once lived and the people who have gone me."
In his ongoing practice, Navin June Norling (b. 1970) examines classic Americana imagery and assembles miscellanea out of popular culture signifiers, sayings, folklore, and materialism.
During his upbringing, Norling would spend summers on his grandfather's farm in California's Central Valley, where all resources were reused without any waste. The impact of that rural setting led him to embrace salvaged components and eventually integrate assemblage and bricolage techniques into his formal training as a painter. But apart from those summers, Norling grew up in suburban California and spent his youth in wild exploration across the Bay Area; part of a generation committed to establishing a personal aesthetic framework, whether in the use of graffiti monikers or wheat paste messaging. He has been vicariously loyal to that urban grit and has maintained a street palette in his work.
The use of found objects and urban detritus plays a large part in his continued investigation of a dynamic American cultural landscape and its sociopolitical nuances. Cast-off wood frequently makes an appearance in the artist's work, like the window panes in Good to the Last Drop (2005) presented at Sculpture Center in New York and in Black Cats (2003), held in the contemporary art collection of the Brooklyn Museum.
In 1995, he received a BFA in illustration from the California College of the Arts. It was here that he first encountered Raymond Saunders, who studied the collage process further reaffirmed his commitment to the found object. He later moved to New York in the early 1990s and received an MFA in fine arts from Hunter College in 2002. This shifting inhabitance across rural, suburban, and urban landscapes continues to shape his long-running survey of the country. More than that, the changes in scenery helped him develop a cheeky lexicon in addressing national issues of power, class, geography, capitalism, and inequality – a sense of humor accessible to varying demographic groups, each with their unique set of sensibilities.
His body of work encompasses paintings, sculptural objects, and installations. melanges of cacophonous iconographies developed from urban graffiti and pop imagery. In his recent work and as an extension of his exploration of bricolage, the artist has been employing a stacking technique to unite disparate, totemic fragments – modular and self-contained – that, when put together, plot out an ambitious, cohesive genealogy of collective Americana chronicles.
Norling lives and works in Atlanta, GA. He is currently a professor of foundation studies at the Savannah College of Art and Design.
MASCOT is Norling's second solo exhibit at Anno Domini.
---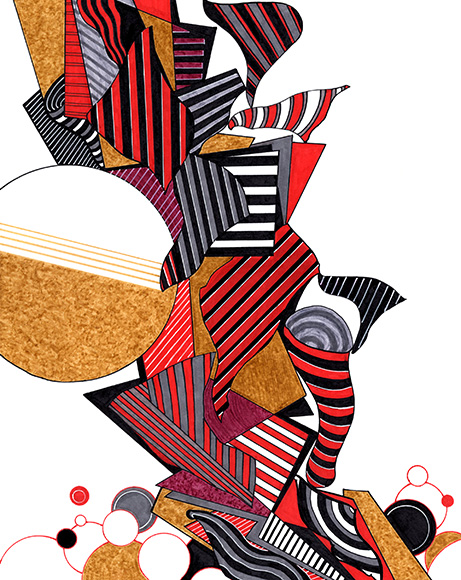 Artist's reception: dis/ab STRACTIONS Steven Borelli solo exhibition

Abstractions
Distractions
Distracting Abstractions
Abstract Distractions

Whatever you may want to call them, they all lead us to the same place, this collection of art. And however you want to describe them, they should be fun. Each piece in this show is a collage of whatever feelings, inspirations, and intuitions are affecting at the time of creation. Immerse yourself in them and see whatever you want. One of the things I like most about doing abstract art is when people tell me what they see in a particular piece. I want each viewer to get their own idea or message from my art. Consider them a Rorschach test for imagination instead of psychoses. Unless you are psychotic, in which case, friend me on Facebook.

About the Artist:
(Being a 100% truthful and incredibly accurate account from the dawn of time to the present)

Steven Michael Borelli has been drawing since he was a fetus. The inside of his mother's womb is tattooed with the renderings of his twisted imagination. Upon birth he continued his assault on the senses by concocting his own abstract designs inspired by the lunacy transpiring about him. Eschewing the formal art training of college, he embarked on a career of illustration and graphic design. He also spent several years teaching design and animation, enjoying the mayhem he could spread by preaching his own insane dogma to the inquisitive minds of impressionable students throughout Silicon Valley.

Now with a thriving design business, Borelli balances the chaos he calls a life by visualizing on board, film and canvas the various hallucinations dancing like sugarplums through his deranged imagination, and using his creativity as ammunition in the never-ending battle with mediocrity.
---
MACLA Movimiento de Arte y Cultura Latino Americana – 510 S. First St. map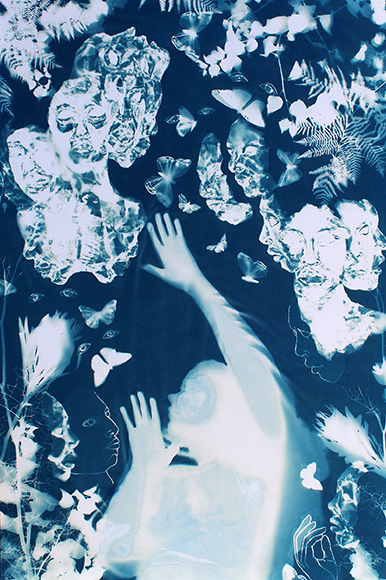 Pertenecer: To Belong group exhibition
Participating Artists: Pilar Agüero-Esparza, Rayos Magos, Kristina Micotti, Hector Muñoz-Guzmán, Vanessa Wallace-Gonzales, Jennifer White-Johnson

This exhibition investigates the intercultural identities of Latino artists across the Bay Area and beyond. Through varying mediums, each artist shares glimpses into their experiences of feeling othered across different spaces and social conditions within today's culture. The spectrum of encounters have empowered each artist to lean further and deeper into their Latinidad, their work highlighting traditional techniques and iconography, indigenous homage, and references to every day life. By embracing their otherness, the artist can take control of their narrative and create their own space of pertenencia. This exhibition will feature the works of Pilar Agüero-Esparza, Rayos Magos, Kristina Micotti, Hector Muñoz-Guzmán, Vanessa Wallace-Gonzales, and Jennifer White-Johnson.
---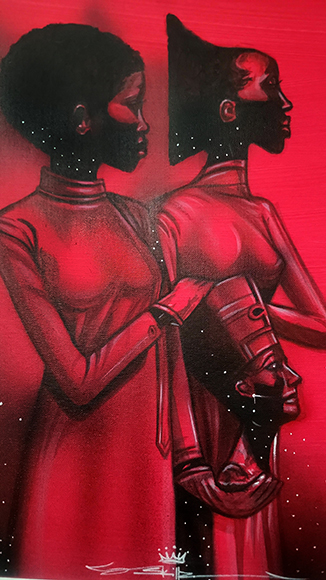 Hollywood by Fuquan Divine
My interpretation of actors and singers in private thought
---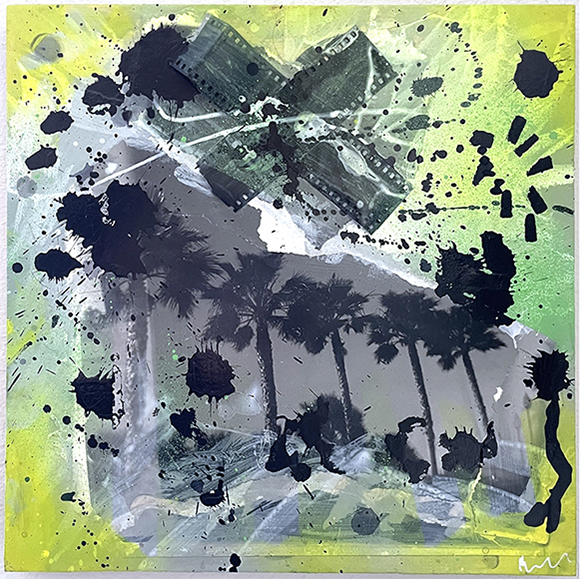 Stream of Consciousness Robert Delare Chavez III solo exhibition
The creation of streams of ideas flowing in my brain when I focus on this work. I specifically chose to work using an inexpensive Holga camera on this project because of its versatility and the dream-like captures I can create with it. I use mixed media to intensify or emphasize my experimental exploration of this photographic project, hence a stream of ideas. Shadows, light, and structure continually clashing with life, color, and environment. My own chaos mixed with what is around me. Enjoy the experience.
About the Artist:
Chavez has been taking photographs all of his life, and recently earned his BA in fine art photography. He enjoys landscape photography, street art, and showing the beauty in the grittier side of life. He's been working on this project for many years, using a $35 Holga camera to show life from his perspective.
His work has been featured in many different venues around the Bay Area, including San Francisco, the East Bay, and San Jose. Most recently, his work has been shown at the Mexican Heritage Plaza Afterlife show and at the 1Culture Camera Shy exhibition. In May 2022 Chavez received the SJCC ASG President Award for photography.He is currently a teaching assistant under Terri Garland at San Jose City College.
---
Closed this evening.
---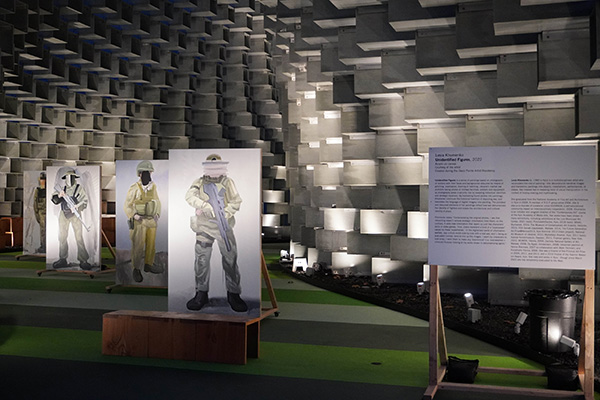 For this special Winter Fest, we present the West Coast premiere of an exhibition of six larger than life-size paintings by internationally-known artist Lesia Khomenko, who has exhibited her work across the globe, and at the Venice Biennale in 2022. The work will be exhibited in the Unzipped Pavilion in San Jose's SoFA arts district and artist will be in attendance during First Friday ArtWalk SJ 5–9pm. (Note the exhibition is created from images of Ukrainian soldiers with faces and weaponry partially obscured.)
Lesia's artistic practice is currently focused on the ways of looking at the war and the ways the war represents itself. In her works, the artist combines found images with her own experience and experiences of her nearest and dearest. She collects photographs depicting soldiers with their faces and backgrounds digitally obscured by means of glitching, pixelisation, blurring or hatching. Ukraine's martial law prohibits taking photos of military facilities, soldiers and equipment on security grounds. In this situation, photography ceases to be an instrument and becomes a dangerous weapon. By turning found photos into paintings, the artist references the historical tradition of depicting war and translates the language of digital imagery into that of painting. Her way of treating the images includes fitting the pixelised fragments in the figures of her characters to dehumanise and deconstruct them.
"Contemplating the original photos, I see that retouching doesn't remove strategic information from them; on the contrary, it adds new information that layers up just like characters' skins in video games. Thus, pixels represent a kind of a 'superpower' owned by these 'superheroes'. In the digitalised world of information warfare, pop culture exists side by side with a real war, and I, being an evacuated civilian, tend to mix up the images. I want my characters to look scary, I want them to make any 'brainimical'* Russian looking at my works drown in dehumanising agony." –Lesia Khomenko
* i.e. brainwashed + inimical
Lesia Khomenko (b. 1980 in Kyiv) is a multidisciplinary artist who reconsiders the role of painting – she deconstructs narrative images and transforms paintings into objects, installations, performances, or videos. Her interest lies in revealing tools of visual manipulation in the context of history-making and mythmaking. She graduated from the National Academy of Fine Art and Architecture in Kyiv, 2004. A member of R.E.P. group since 2004, she is also a co-founder of curatorial union HUDRADA, a self-educational community based on interdisciplinary cooperation, 2008. Khomenko is an initiator and program director of the "Contemporary Art" course at the Kyiv Academy of Media Arts. Her works were shown in many exhibitions, including at the Lviv Municipal Art Center, 2021 (solo); PinchukArtCentre, Kyiv, 2018 (solo); MNAC, Bucharest, 2016; The Museum of Contemporary Art Kiasma, Helsinki, 2015; CCA Zamek Ujazdowski, Warsaw, 2014; The Future Generation Art Prize@Venice2013; Kyiv Biennial 2012 (main project); National Art Museum of Ukraine, 2012; Mystetskyi Arsenal, Kyiv, 2011 (solo); Kalmar Konstmuseum, Sweden, 2011; Fridman gallery, New York, 2022; MUMOK, Vienna, 2009; Zacheta National Gallery of Art, Warsaw, 2008; De Appel, Amsterdam, 2008; Ukrainian pavilion at Venice Biennale, 2007 (a collaboration with Mark Titchner); and Kunsthalle Vienna, 2006. She was a finalist for the Pinchuk Art Prize in 2009, 2011, and 2013, and a 2016 finalist for the Kazimir Malevich Award, Kyiv. She lives and works in Kyiv – since March 2022, she has temporarily been in the West.
---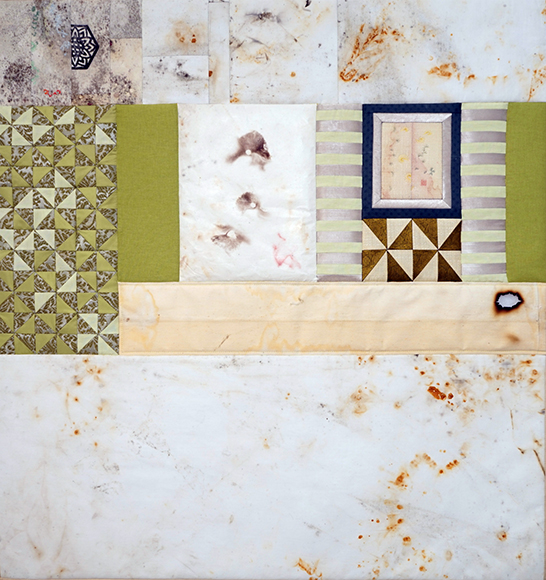 Quilt National '21
Join SJMQT for a delightful night accompanied by the Kupinski Guitar Duo and donate $5 for a chance to win a curated gift basket!
Quilt National '21 is a juried biennial exhibition featuring the Best of Contemporary Quilts. Organized by The Dairy Barn Arts Center in Athens, Ohio, Quilt National showcases new works, all made within the previous two years from the show's opening, selected by the jury of Nancy Bavor, Brigette Kopp, and Karen Schulz. Quilt National offers the works of artists who take technology and techniques for fiber art above and beyond the ordinary.
---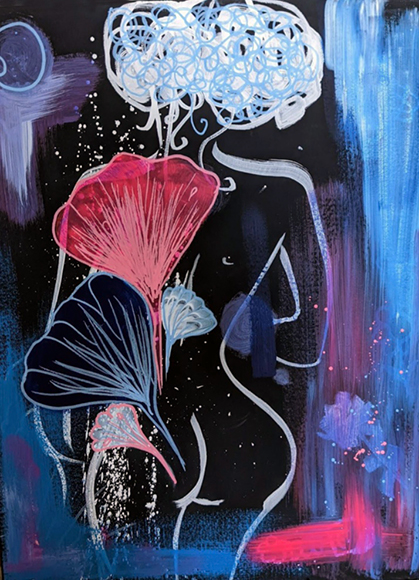 Moonlight by Diana Avila
Inspired by clouds, animals, space, and nature, Diana Avila was born in Mexico but grew up in San Jose. Her first love was photography, as she remembers going to art walks as a kid in San Jose and seeing all the wonderful local artists and their work. She practices different kinds of art (candle making, poetry, sketching) but is slightly obsessed with painting on black canvases. A fan of moody feelings, she loves how the colors pop off—not unlike the diversity of San Jose in which she thrives.
---
Fountain Alley Area
1Culture – 136 E. Santa Clara St. map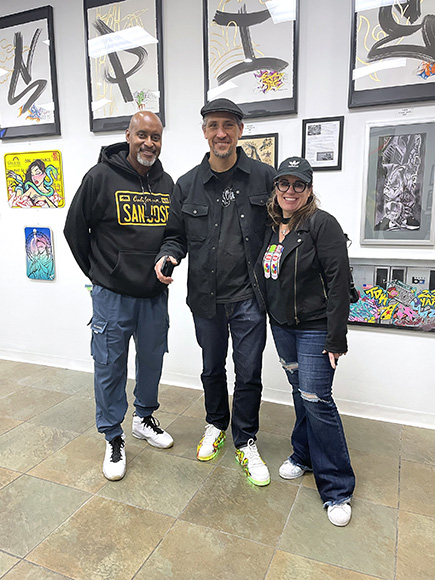 The Bay Area Legends

Featuring: ARTIST 1, SPIE, CCTV, GATS, MESNGR, NEXUS, CEAVER, WISPER, FWORD, ZEST ONE, SHEN SHEN 210, QUAKE, KING 157, SNO, BIZARE 68, ALADDIN, CRAYONE, FYERBOMB, MANOS, MINE TWB
The Bay Area Legends exhibit is made up of an indoor and outdoor art gallery. Twenty artist who have mastered aerosol as a medium have been invited to participate in an exposé that honors graffiti culture and its connection to the Bay Area—each will be showcasing artwork to be placed on our gallery walls and will be adding some color and style to the parking lot behind the gallery in a live painting demonstration.
Although some may consider it to be an unauthorized visual intervention, graffiti obtains the power to build relationships and facilitate dynamic dialogue between a diverse and often under-represented group of communities to help increase their input and impact on public decisions that involve art and urban development. With this project, we aim to capture and document some of the unique San Jose history and energy and encourage people to explore, appreciate, and positively engage with the spaces around them.
This being a font-based art form, graffiti uses fame-seeking strategies and combines them with mass communication, allowing writers to show more styles to more regions; a network of communication, and a new territorialization of the city by means of colors, letters, and style. With the internet now being a prominent influence, the scene is in constant flux. These legends remind us of the ephemeral quality of graffiti, as time passes, their voice and history stay embedded in the generations to come.
---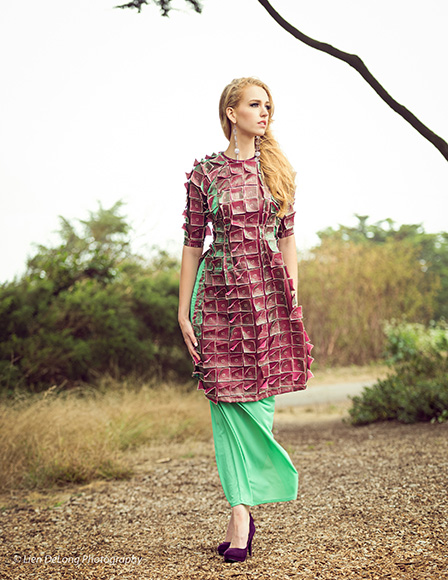 Opening Reception. Mẹ Earth Exhibit

Tuan Tran is a Vietnamese American artist based in the Bay Area whose work breathes new life into old objects that were once fated for the landfill. As an eco-friendly artist, he transforms materials that can be recycled or repurposed into contemporary, eclectic, and interactive art.

7:00pm Fashion Show by Designer Tuan Tran
---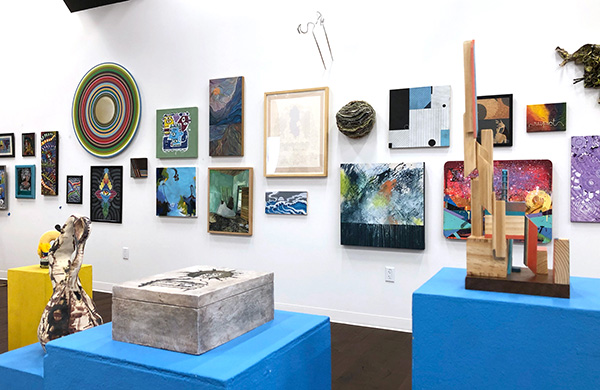 Community Art Auction!
Build your collection while supporting your community art center! Local artists have contributed 172 artworks for the South Bay's most accessible art auction! Silent bidding is open now and this First Friday is the final night to preview the auction exhibit before the closing night and auction party on March 4!
Artists include local luminaries Pilar Agüero-Esparza, Ed Attanasio, Helen Bellaver, Sean Boyles, Thai Bui, Marie Cameron, Nicholaus James Dalton, Trieu Dao, Jemal Diamond, Domino, Kathryn Dunlevie, Ruben Escalante, Dan Fenstermacher, Force129, Anna Gelman, Cynthia Yadira Gonzalez, Matty Heimgartner, Richard Hoffman, Gloria Huet, Deborah Kennedy, Jonathan Kermit, Katherine Levin Lau, Oleg Lobykin, Rayos Magos, Tony May, Elizabeth Jimínez Montelongo, Andy Nguyen, Gianfranco Paolozzi, Carlos Pérez David, Francisco Ramirez, George Rivera, Joe Rodriguez, Steven Rubalcaba, Kurt Salinas, Lynne Todaro, Monica Valdez, Roan Victor, Ruthie K. Yamada, and many, many more!
---
Martha Gardens District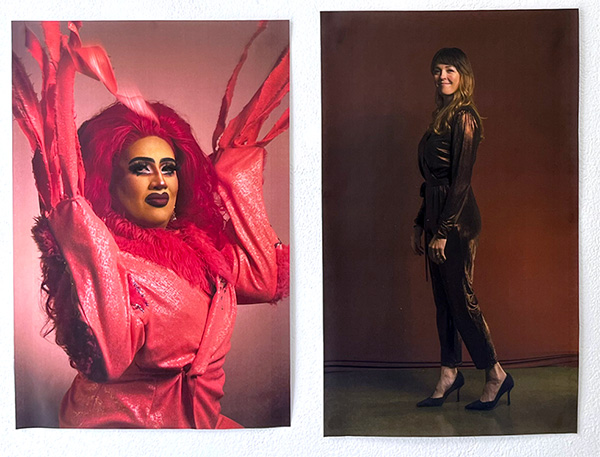 Portraits/Retratos by Miguel Espinosa
Miguel Espinosa has been hard at work leading free Community Workshops and providing free portraits for businesses and families in the gallery for the past month. His exhibition will include portraits he has painted as well as photographic portraits. His mission is to create quality portraits for anyone and everyone.
---
FUSE presents at the Citadel Art Gallery- 199 Martha St. map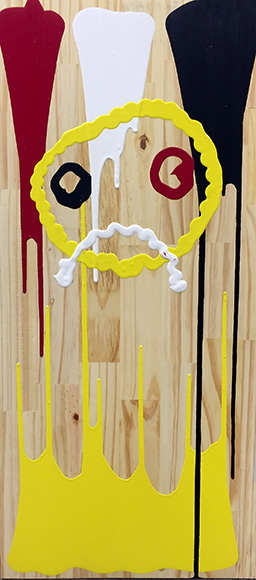 Opening reception: Emerging From Winter FUSE Artists group exhibit
What we have been doing while hiding from the rain.
---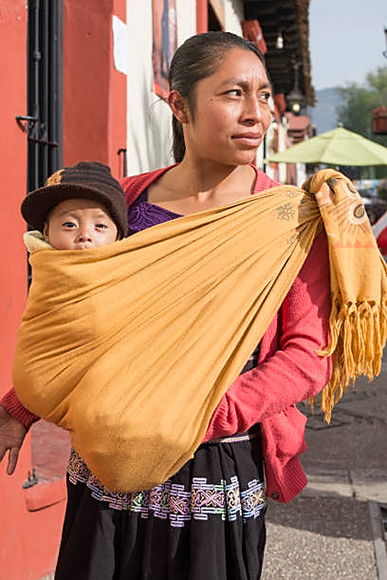 Mexican Rebozos / Rebozos Mexicanos
Rebozos are handwoven shawls made by indigenous women in various regions of Mexico.
They are weaved in backstrap looms using natural fabrics such as silk, cotton, and sheep's wool. Rebozos have many purposes as seen in evidence of Mesoamerican ancestral cultures. However, the shawls are mostly associated with giving women support during the birth process and help women carry their babies around. Most rebozos are made by Mayan women and Zapoteca women, and they handknot very fine, intricate fringes as the finishing touches. San Luis Potosi is another state in Mexico known for creating the famous and beautiful rebozos.
---
South FIRST FRIDAYS
366 S 1st Street
San Jose, CA 95113
408-271-5155
info@southfirstfridays.com
---