JOIN US for the South FIRST FRIDAYS Art Walk & STREET MRKT
First Friday OCTOBER 6th from 7–11pm
SoFA District (& beyond) downtown San Jose
The South FIRST FRIDAYS Art Walk is a self-guided, nighttime tour through galleries, museums, and independent creative businesses featuring eclectic art exhibitions and special performances.
STREET MRKT is a hyperlocal urban faire featuring 40+ artists, creative vendors and music out on South First Street (between San Carlos and William St) in the SoFA District.
All ArtwalkSJ venues and the STREET MRKT are FREE admission & open to the public.
---
NEW EXHIBITS…
CONTINUED EXHIBITS…



Vision and Voice: Reflections of Immigrant Artists in California

Featuring: Guillermo Galindo, Pantea Karimi, Jung Ran Bae, Anna Larina, Takeshi Moro, Xiaoze Xie

Art Ark is pleased to share the work six incredible artists who have immigrated to California from different countries some near, some far. An audio station will accompany the art. Audio tracks created from conversations with each artist will play, sharing personal stories, illuminating their art practices and immigration experiences.

MACLA Movimiento de Arte y Cultura Latino Americana – 510 South First St. map

In the DMC Studio: Monthly Showcase 5:30-7pm
Join the DMC Studio youth for a monthly slam poetry, live music, and a showcase of downtown San Jose photography. Watch the public premiere of youth short films and view their insightful photography on display throughout the evening! Must be ages 13- 21 to perform in the Open Mic. Sign up list opens at 5:30 pm; open Mic/Poetry Slam from 6–7pm. Each performer will be allowed 2-3 pieces OR a 5 minute set.


Documentation of Beyond Control (Más Allá del Control), Carolina Caycedo, 2016

In the Visual Arts Gallery: "Temperature Check: Body of Evidence"

Artists: Alejandro Durán, Carolina Caycedo, Xavier Cortada, Ana María Guerra, Michelle Murillo
"What is the conversation about climate change within the Latino community?" From deforestation, flash floods, and droughts, to politics and economics, these artists test the heat of the current conversation around global warming as its evidence continues to pile ever more around the globe.

In the Castellano Playhouse Theater 8-10pm

La Asociación Cultural Kanchis is a Peruvian folk dance group whose mission is to teach and promote the culture and traditions of Peruvian folk music and dance.


Alcatraz Colonnade, San Francisco, California

On view: Structures: Photography by Michael Singer

Phantom Galleries is proud to present a collection of abstract black & white photographs that explore geometric harmony and architecture. Comparing and contrasting patterns from the natural world with man-made structures, this exhibit presents photographs of world-renowned buildings as well as moments captured during Tanzanian safaris.

With over 30 years experience as a photographer, Michael Singer is also a furniture designer. His photographs range from the documentary to the interpretive. He frequently strives to illuminate the inherent line, tonality, and rhythm of a scene through the use of black and white presentation. He highlights the graphic nature of images from both the built and natural worlds, often through abstraction.

Exhibition produced by guest curator Vivian Giourousis.

Guilty Pleasures by Amy Beans
Everything you wish you could eat without gaining a pound! Feast your eyes on all the glittered guilty pleasures Amy Beans has laid out for you buffet style at Cafe Frascati.

Upstairs Gallery: "Kinship" by Elba Raquel Martinez

All humans are all born to the same nest, that nest being our Mother Earth. The shell of our nationality comes in many different colors and patterns but it's only skin deep. Inside all our shells are interwoven, yarn-like strands of DNA that connect us more than they divide us. As brothers and sister of this nest, we must love one another and care for our Mother.

Elba Raquel was born and raised in San Jose. She graduated in 2005 from Evergreen Valley College with an AS in Design. Immediately following she moved to "The City" to study at the San Francisco Academy of Art University where she graduated in 2008 with a BFA in Illustration. Currently she runs the art department at Latino College Preparatory Academy and is pursuing her Master's in Art Education at Santa Clara University. She is an active free lance illustrator and exhibiting artist in San Jose. As a 2-D and 3-D artist, Elba Raquel blends both realms in a playful manner. Her Mexican cultural influence reflects in her pieces through rhythm and color into what can be described as "fantastic realism."

First Fridays is Caffe Frascati Opera Night presented by First Street Singers, with the Bay Area's finest opera singers performing your very favorite classical arias and duets live in the cafe! for the South FIRST FRIDAYS Art Walk.

We're participating in the STREET MRKT! Look for our booth in front of our building.

Paintings by Jim Fonseca

Urbanization by Peter Edwards

This series of mono and relief prints explore the juxtaposition between urbanization and how it affects the natural world. It is a colorful yet dark depiction of the rise or 'growth' of the wants and needs of a technologically advancing society and the impact it has on our world.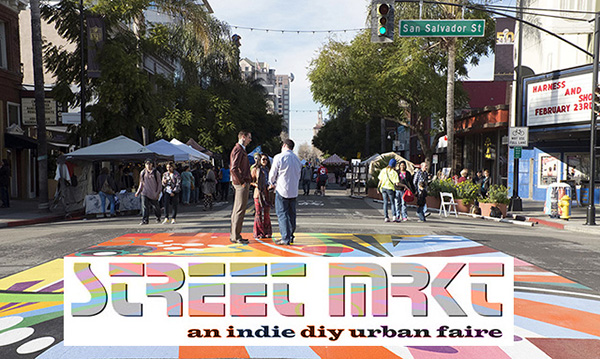 This nighttime urban faire features 40+ artists, creative vendors and music out on South First Street (between San Carlos and Parque de los Pobladores) in the SoFA District. All art venues and the Street Mrkt are FREE admission & open to the public.
STREET MRKT is supported in part by a Cultural Affairs grant from the City of San Jose.
PARTICIPATING ARTISTS & INDIE CREATIVES:
Mike Borja
Keith Bunnell
Masako Esparragoza
David Canavese
Classic Loot
Content Magazine
Crossroads Trading Co.
The Cube
Current Tattoo
Emonic
Lindsey Farrar
Force 129 & Betty Proper
Courtney Gibbons & Jane Kovac
Cynthia Gonzalez
Hand in Hand Henna
Kyle Harter
Matthew Heimgartner
Higher Fire Clayspace
Jodi 408
Ken Harmount
Human Specimen
Dave Leder
LGBTQ Youth Space
Lucid Beaming
Moonshine Rose Trading Co.
Sean Nash
Ouderspace Boards
Pharaoh Botanicals
Petite Galleria
Poetry Center
Al Preciado
Francisco Ramirez & Roberto Romo
Marilyn Roaf
Israel Sanchez
San Jose Bicycles
Mathew Scizluna
Sea Señorita Studios
South Bay Burners
Visual Confections
Works San Jose
and Zonkey!
---

LIVE MUSIC:
Kick off concert for the Y2K17 International Live Looping Festival
(S. 1st St. in front of California Theater)
Past Y2K17 International Live Looping Festival Headliners, Daniel Thomas, Rick Walker, and Bill Walker will be playing at the South FIRST FRIDAYS Street Mrkt this Friday October 6th from 7pm–11pm. The live looping performances will be out on South First St. in front of the California Theater in the SoFA District.
Rick Walker, the founder of the festival that now, in it's 17th year, has satellite festivals In 57 cities in 21 countries worldwide, himself, has headlined in 20 different countries as a Found Sound/Multi-Instrumentalist live looping artist.
Daniel Thomas is not only an amazing multi-instrumentalist, but one of the most tech savvy live loopers on the planet. In addition, he is an award winning musical producer (he just received the "Best Album of the Year" award from Folk Roots magazine (the most prestigious and well known world music journal) for his production of Indian master, Debhashish Battycharya latest album.
He combines guitar, keyboards, vocals and world percussion into his sophisticated mix of live looping.
Bill Walker is one of the world's best lap steel guitar players as well as being a seasoned professional guitarist in every single style conceivable. His beautiful solo looping album, "Sanctuary" has garnered high praise in the guitar world and his CD with Turkish acoustic/electronic composer, Erdem Helvacioglu, "Fences" was featured in a laudatory 5 page spread in 'Guitar Player' magazine (the world's largest circulation
music magazine). He is, additionally, one of the most sophisticated live looping and digital sound processing musicians/composers in the scene today.
All three artists will play solo pieces and will also collaborate improvisationally.
The Street Mrkt concert is a prelude to the annual "Best of the Y2K17 International Live Looping Festival" featuring live loopers from all over the world at ANNO DOMINI Gallery on Wednesday, October 18th.
plus EOM Sessions
on S 1st St. btwn San Salvador and William St. near Food Trucks
GOURMET FOOD TRUCKS: (S 1st St. btwn San Salvador and William St.)
3 Bros Kitchen
Chef Dreams
Falafel Fresh
Rice Rockit
Soulenese
Takoz Mod Mex
Twisted Chill